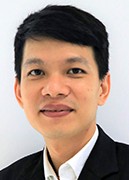 Program Manager, Cambodia
Pechet Men works with the Foundation's Australian-funded Ponlok Chomnes: Data and Dialogue for Development in Cambodia program that aims to strengthen the capacity of Cambodian knowledge sector institutions to undertake quality research that informs public policy analysis and dialogue in Cambodia. Men is a member of a small team that focuses on program design and day-to-day activity implementation, coordination with program partners and other stakeholders, monitoring partners' MEL activities, and preparation of donor reports. Additionally, Men is tasked to work on qualitative research as well as work with government partners. In his current role, Men backstops the Foundation's Policy Pulse Initiative, which tracks Royal Government of Cambodia's policy reform initiatives and supports programs on regional cooperation in ASEAN and new programs development.
Prior to joining The Asia Foundation, Men worked for a decade with The Documentation Center of Cambodia, an organization that documents atrocities from the Khmer Rouge period. There, Men worked on several donor-funded programs, including a victim's support project where he managed research grants, provided technical inputs, and developed regular donor updates and reports. Previously, Men served as youth leader for Women Peacemakers Cambodia to mentor youth and write blogs on youth concerns. He also backstopped the Ministry of Education, Youth, and Sport's Department of Policy to support policy development of educational opportunities for children with special needs, conduct secondary data collection, and organize stakeholder workshops.
Education: Pechet Men holds a master's degree in International Development Studies from Chulalongkorn University in Thailand, and a bachelor's degree in Business Administration (with a focus on tourism) from the National University of Management in Cambodia. Men has published research and articles related to youth and the Khmer Rouge, and wrote his master's thesis on Burmese migrant workers in Thailand. Men speaks both Khmer and English fluently, and has also studied Chinese.