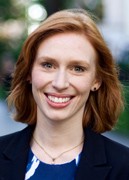 2017-2018 Luce Scholar
Singapore International Mediation Institute
For her Luce year, Sophia Wallach will work with the Singapore International Mediation Institute (SIMI), the premier independent professional standards body for mediation in Singapore and the region. SIMI was incorporated in 2014 as a non-profit organization, with support from the Singapore Ministry of Law and the National University of Singapore. SIMI is headed by an international board of directors with representatives from both mediation practitioners as well as corporate users of mediation. SIMI works closely with the International Mediation Institute, a non-profit public interest initiative to drive transparency and high competency standards into mediation practice across all fields worldwide.
A native of Poughkeepsie, New York, Sophia Wallach graduated from Vassar College in May 2015, with a bachelor's degree in International Studies (Political Science and Economics) and a minor in French. During college, she interned at the Family District Court and Public Defender's Office, where she witnessed the continuous backlog of cases and zero-sum approach to resolving conflict. Frustrated, Sophia looked for alternative forms of dispute resolution, eventually turning to the nationally recognized Dutchess Mediation Center. Sophia is the youngest accredited third-party mediator at the Center and practices in New York State.
After graduation, Sophia moved to Washington, DC, to intern at the Woodrow Wilson Center for International Scholars Africa Program, focusing on the policy aspects of peacebuilding, conflict management, and U.S.-Africa trade relations. She then joined the Federal Trade Commission as an Honors Paralegal in the Bureau of Competition. Early on, Sophia distinguished herself as lead paralegal on a major international consent merger and a successful hospital litigation. Based on her accomplishments, she was selected from her program to serve as the bureau director's paralegal. This gave her insight into the larger strategic negotiations and international aspects of nearly every case. That year, Sophia also received funding to attend the 2016 International Transformative Mediation Conference. These experiences deepened her appreciation for the law and strengthened her conviction that mediation should be used to improve it. She plans to pursue a law degree, starting in the fall of 2018. In her spare time, Sophia spends her copious amount of energy playing violin in a community orchestra, running half-marathons, and indulging her taste for French cheese.