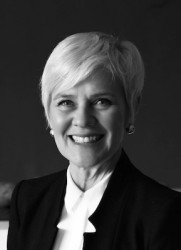 Trustee of The Asia Foundation
Former CEO of the Australian Trade and Investment Commission
Stephanie Fahey served on The Asia Foundation's Board of Trustees from 2016 to 2017 and rejoined the board in 2021. Stephanie's diverse career spans the university, private and public sector. Her expertise centers on international economic engagement, particularly in the Indo-Pacific region but also in Europe. Over the past 15 years she has been CEO of the Australian Government's Trade and Investment Commission (2017-2020), which promotes Australian exports and attracting foreign direct investment to Australia; a strategy consulting partner at EY (Ernst and Young) with a primary focus on educational reform (2013-2017) and deputy vice chancellor (Global Engagement) of Monash University in Melbourne (2006-2012), considered Australia's most internationalized research-intensive university.
She has served on more than 20 government, private, institutional and NGO boards. Most of these boards focus on economic engagement with countries as diverse as China, Japan, Korea, Vietnam, Malaysia, Indonesia, Myanmar and Papua New Guinea. Currently, she is a director of the Australian Design Council, a council member of the European Australia Business Council, a council member of the University of Newcastle and an advisor to the startup futureneutral, which facilitates carbon offset at the checkout.
Stephanie has an enduring commitment to social justice and economic empowerment, particularly in the Indo-Pacific region, and has championed women's empowerment and social justice for indigenous communities and in emerging economies. More recently, she has explored the opportunities for the reduction of the "tyranny of distance" through digital platforms as well as a purposeful collaboration between the profit and not-for-profit sector to deliver aligned objectives around social justice and empowerment.
Stephanie is Professor Emeritus at Monash University, a position she has held since 2013.