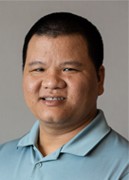 2018 Asia Foundation Development Fellow
Child Rights Lawyer, Vietnam
Van Ngoc Ta is the chief lawyer at Blue Dragon Children's Foundation, a charity that advocates for homeless, disabled, and rescued trafficked children in Vietnam. In this role, he has worked to secure the freedom of over 700 victims of human trafficking, and provided legal advocacy and court representation to another 61 victims of injustice. His tireless efforts have earned him the trust of police and government officials, who regularly invite him to assist in their anti-trafficking and law reform initiatives. In 2014, he received the TIP Hero award from the U.S. State Department, and the inaugural Trust Women Anti Trafficking Hero Award from Thomson Reuters Foundation in 2015. Van holds a master's degree in Sustainable Development from Brandeis University in Massachusetts, a bachelor's degree in Law from Hanoi University of Law, and obtained his license to practice law from the Hanoi Judicial Academy.