Our New Delhi office supports local initiatives to enhance women's safety, security, economic empowerment, and initiatives that facilitate India's engagement in regional and global affairs. The office also serves as a focal point for the Foundation's regional programs in South Asia, including transboundary water governance and intraregional trade. 
Nandita Baruah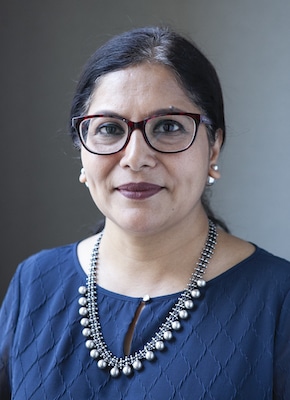 ,
Country Representative
Cross-border cooperation on water
Transboundary river systems play an important role in meeting water needs in South Asia, linking countries around this scarce resource. However, decision-making around management of access to and use of water is mostly technocentric and highly centralized. Community voices and needs remain underrepresented. The Foundation strengthens understanding of these issues among civil society organizations and communities across Bangladesh, Bhutan, India, Nepal, and Pakistan. Regional programing includes multi-country initiatives in the three transboundary river basins of South Asia – Indus, Brahmaputra, and Ganga. With funding from U.K. DFID, we mobilized 40+ CSOs in cross-border collaboration and consultations with community groups and government stakeholders. In India and Nepal, we trained 200 elected women from local government, and female political party leaders, to improve community resilience to frequent floods. These representatives now serve as focal points for coordination.
Crowdsourcing data to make cities safer for women
As more women and girls migrate to urban areas for work and education, Indian cities need solutions to cope with growing levels of gender-based violence. With support from the Lotus Circle, our partner Kalpana Viswanath expanded Safetipin, a free mobile app that collects information about the safety of public spaces using "safety audits" that measure nine parameters (lighting, visibility, walking paths, etc.). Each audit appears as a pin on a map and is used to compute an area's Safety Score. What was conceived as a single app has now developed into a technology platform, and is available in more Indian cities including Guwahati and Bhopal, through the Foundation's support. The Asia Foundation is planning to introduce Safetipin in Cambodia.