Women and Leadership in Pakistan: A Conversation with Sofia Shakil
August 23, 2017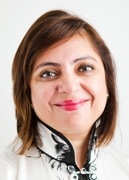 Concerns over access to justice and women's rights are high in Pakistan. The appalling revenge rape in mid-July of a 17-year-old girl, ordered by a tribal council, has again ignited outrage over the country's justice system and the sustained level of violence against women. In this interview, The Asia Foundation's country representative in Pakistan, Sofia Shakil, discusses justice for women, the power of youth in advancing a more inclusive society, and her participation in next month's 2017 Women Funded Conference in San Francisco.
Can you talk about this environment for women and girls in Pakistan today?
The immense outcry from civil society organizations and government departments against the recent tragic incident demonstrates the increased realization for strengthening formal administrative and legal systems to protect the safety and dignity of women, particularly those from vulnerable segments of society. While the situation is especially disturbing for women in tribal and feudal areas, limits on women's mobility and safety in urban centers is also a concern.
The structure of non-traditional dispute mechanisms functioning alongside the formal system of justice is long-running in Pakistan. What does this mean for women?
There is a tremendous amount to be done to improve access to justice, especially among women, minorities, and marginalized communities in Pakistan. While improving the efficacy and equality of Pakistan's formal justice sector is important, it's only part of the solution. That's why The Asia Foundation is focused on strengthening alternative dispute resolution within the mainstream legal system while also supporting community-based interventions to provide access to justice for victims of gender-based violence.
We are also building the capacity of young lawyers, bar associations, and judges, including female judges, in local district courts to help implement alternative dispute resolution. This offers swifter resolution of civil disputes within the ambit of the law, and works toward a solution in which the grieved party is not put under undue pressure. For women, this can mean having a safe space to take action against a perpetrator of domestic violence (often a spouse or senior female member of the household) or bring forward cases relating to custody and other disputes, without having to enter the official courts which can be very intimidating for women. There are social biases that work against women taking up grievances with the police or in courts—but offering a less threatening environment may result in more cases being reported.
Despite setbacks, thousands of women and men continue to become the torchbearers in the women's movement in Pakistan. Where does this women's movement stand today?
The women's movement in Pakistan has seen a tremendous growth in recent years with increased economic opportunities and changes in social attitudes, where women are increasingly gaining a role in household decision-making as they engage in economic activity. There has been expansion in programs that provide access to finance for small-scale female entrepreneurs; there are an increasing number of young women accessing tertiary education; and more women entering the workforce. In the democratic and political space, we see more women participating in the electoral process.
The hope is that this movement can play a role in shifting societal norms, and engage all women and men across different socio-economic levels. There is tremendous opportunity for an organization like The Asia Foundation to support these nascent or developing trends.
Given Pakistan's growing youth population—63 percent of the population is under the age of 25 and around 35 percent are under 15—what potential is there for youth to contribute to the development of the country?
There is a lot of energy that young people bring that can be harnessed through education, creative industries, and technology and social media. For instance, the Government of Pakistan has prioritized technical and vocational education and training as a major effort to prepare young people's participation in the workforce. Civil society organizations, government, and individuals such as musicians and other performing artists are collectively trying to promote positive programs and messaging to young people to counter extremism and violence, and be more involved in the creative and economic development of the country. I believe that by investing in more education and training, and promoting cultural and civic activities in universities, we can provide more opportunities for young people to be strong leaders and advocates for social and economic inclusion in Pakistan.
In September, you're joining 300 women leaders for the 2017 Women Funded Conference in San Francisco to lead a session on empowering women to become leaders. Can you talk a bit about the importance of building women leadership at the community level in Pakistan, and what you'll be discussing at your session?
While Pakistan in fact has a relatively high number of women in parliament at nearly 21 percent, they routinely face harassment and struggle for equal participation in decision-making, and are often seen as an extension of male politicians. At the same time, female literacy rates are the lowest in the region—45 percent overall, but for the 15- to 24-year-old age group it is 62 percent. About 24 percent of girls are married by the age of 18.
At the Women Funded Conference, I'll be focusing on The Asia Foundation's work to strengthen community institutions and work with local administrative and political leaders to provide women with more opportunities and better access to justice and services. We have decades of experience in building the capacity of local organizations and systems to promote gender equity and women's economic and political empowerment. This talk will give the participants of the conference a glimpse of the challenges and the windows of opportunity that exist in Pakistan through which sustainable improvement in the lives of women and families can be achieved.
With over 100 women's foundations and gender equity funders engaged, Women's Funding Network is the largest philanthropic network in the world devoted to women and girls. What role can a community like this play in advocating for women and girls?
A community of such accomplished and well-resourced individuals and foundations can help organizations such as The Asia Foundation expand our efforts to build the capacity of local institutions to support, strengthen, and sustain women's leadership and opportunity in the time ahead. It can also provide a stronger voice to other individual and institutional donors to work with organizations such as ours to undertake multi-year and multi-sectoral programs that are essential to gaining traction for the level of transformative change needed.
The views and opinions expressed here are those of the interviewee and not those of The Asia Foundation or its funders.
About our blog, InAsia
InAsia
is a bi-weekly in-depth, in-country resource for readers who want to stay abreast of significant events and issues shaping Asia's development, hosted by
The Asia Foundation
. Drawing on the first-hand insight of renowned experts,
InAsia
delivers concentrated analysis on issues affecting each region of Asia, as well as Foundation-produced reports and polls.
InAsia
is posted and distributed every other Wednesday evening, Pacific Time. If you have any questions, please send an email to
[email protected]
.
Contact
For questions about
InAsia
, or for our cross-post and re-use policy, please send an email to
[email protected]
.
The Asia Foundation
465 California St., 9th Floor
San Francisco, CA 94104
Mailing Address:
PO Box 193223
San Francisco, CA 94119-3223
Support Women Forest Defenders
Join us this holiday season to help untapped leaders like Sumini and the Women Forest Defenders battle rampant deforestation in Indonesia.