YSEALI Summit – Innovation Slam Competition Winners Announced
Singapore, December 6, 2018 — In Singapore December 3-5, The Asia Foundation organized and implemented the annual YSEALI Summit, a program sponsored by U.S. Department of State. On December 5, YSEALI announced the winners of the Innovation Slam competition.
After 3 days of intensive collaborative group work, drop-in mentoring by experienced entrepreneurs, and coaching from industry experts, representatives from each of 15 competing groups took the stage to pitch their projects before a panel of 6 judges, themselves experts in entrepreneurship. The Judges panel included:
James Toh – President, MIT Club Singapore
Jane Bocklage – Deputy Representative, U.S. Mission to ASEAN
Brian Ferinden – Public Affairs Officer, U.S. Mission to ASEAN
Gouri Mirpuri – Founder, Connected for Good; co-founder of Impact HUB Singapore
Laurence Lien – Lien Foundation/Asia Philanthropy Circle
Camille Dawson – Counselor for Public Affairs, U.S. Embassy Singapore
Projects were judged by how well they addressed the following requirements: measurable social impact; potential to scale across ASEAN; revenue generation model; demonstrable partnership (with team members from at least 4 countries), and the implications for support or partnership with U.S. business, organizations or institutions.
After much deliberation, six prizes were given out on Wednesday evening, each with a small "seed" grant award to be used toward implementing their projects.
The grand prize winner, taking home a $10,000 seed grant, was ASEAN Unboxed: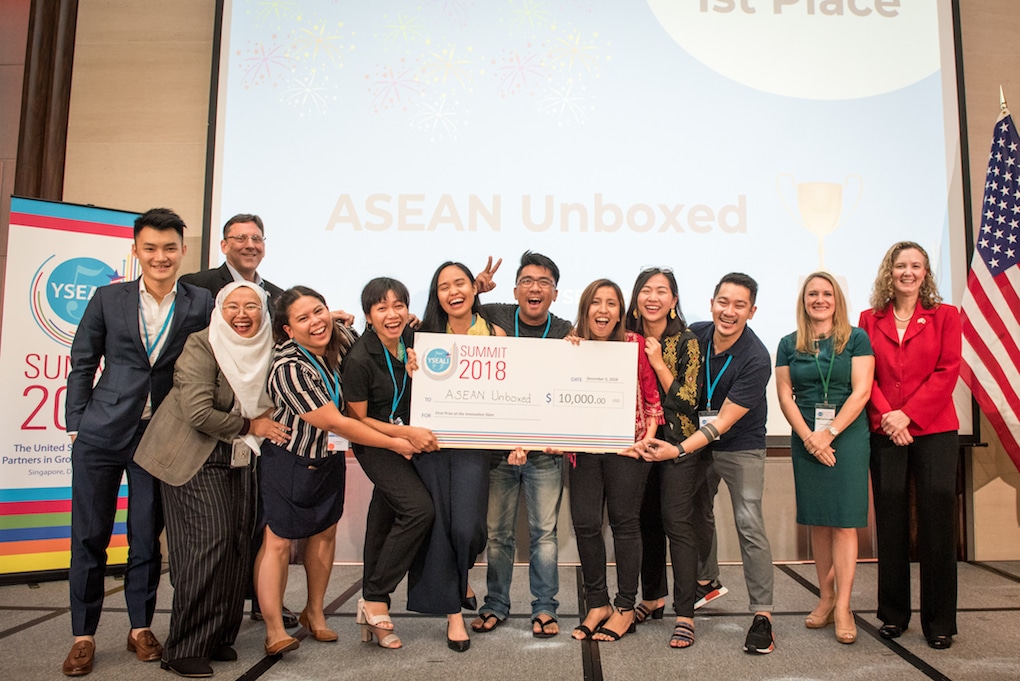 ASEAN Unboxed is an ecommerce and storytelling platform that seek to give access to the best products that come from 11 ASEAN countries. This platform will provide market access to social enterprises to reach the growing market of conscious consumers.
ASEAN Unboxed team members:
Janine Chiong (Philippines)
Nur Azrin Abu Bakar (Malaysia)
Joie Cruz (Philippines)
Pia Miraflores, (Philippines)
Adrian Koh, (Brunei)
Ouk Channita (Cambodia)
Lei Motilla, (Philippines)
Emil Tapnio, (Philippines)
John Si Thu, (Myanmar)
Taking second prize in the competition for a seed grant of $7,500, and winning the crowd favorite for an extra $2500, was iSpot:
iSpot is a mobile application that will help the LGBTQ+ community spot and review inclusive and safe environments and business establishments. This is a platform to connect an emerging social movement with the business sector recognizing that the economy can drive societal evolution while raising awareness of real issues confronting the LGBTQ+ community.
iSpot team members:
Chitsanupong Nithiwana, "Best" (Thailand)
Ravin Chobchai, "Win" (Thailand)
Chetsada Changmai, "Chest" (Thailand)
Val Amiel Vestil (Philippines)
Angel Allyne Abellana, "Ey" (Philippines)
Nam Nguyen, "Mason" (Vietnam)
Ratchamongkol Saenwandee, "Big M" (Thailand)
Bui Thi Minh Ngoc, "Mino" (Vietnam)
Stay tuned for future announcements showing the progress of the winning projects in the spring, as the teams begin putting their seed funds to work! If you would like to reach either team for interviews, please inquire with us directly.
More about YSEALI:
Launched in 2013, the Young Southeast Asian Leaders Initiative (YSEALI) is the U.S. Department of State's signature program to strengthen leadership development and networking in Southeast Asia. Through a variety of programs and engagements, YSEALI seeks to build the leadership capabilities of youth in the region, strengthen ties between the United States and Southeast Asia, and nurture an ASEAN community of leaders who work across borders to solve common issues. The 2018 YSEALI Summit is the third YSEALI program implemented by The Asia Foundation in 2018, and The Asia Foundation will be implementing two more in the spring of 2019.
The Asia Foundation supports cross-country and regional dialogues throughout Asia to enable government and non-governmental leaders to share lessons and best practices relate to governance and common
developmental issues. The Asia Foundation works to strengthen relations among Asian nations in the efforts to foster peace, stability, prosperity, and effective governance.
Read more about the Foundation's work.
For media inquiries, please visit our News Room. Engage with us on Facebook, Twitter, LinkedIn, and Instagram.
Read our latest news, or insights from our blog.
Media contacts
Amy Ovalle, Vice President, Global Communications
[email protected]
415-743-3340
Eelynn Sim, Director, Media & Strategy
[email protected]
415-743-3318
Support Women Forest Defenders
Join us this holiday season to help untapped leaders like Sumini and the Women Forest Defenders battle rampant deforestation in Indonesia.