Twenty Years of Elections and Democracy in Timor-Leste
August 28, 2019
Twenty years ago this week, the people of East Timor, now Timor-Leste, went to the polls for the landmark referendum that would determine their nation's political future. On August 30, 1999, the people voted overwhelmingly to reject Indonesia's plan for "special autonomy" and instead to pursue national independence for East Timor. It would be the first of many votes in the next 20 years in what is now, according to the Economist's 2018 Democracy Index, the most democratic country in Southeast Asia.
That historic referendum was followed by Constituent Assembly elections on August 30, 2001, which produced an electoral win for the FRETILIN party, and Mari Alkatiri was appointed prime minister. The Assembly had the mandate to write a constitution, which was promogulated in March 2002, and the Assembly then became Timor-Leste's National Parliament. Presidential elections the next month saw Xanana Gusmão elected as the country's first president, and East Timor formally became independent on May 20, 2002.
Prior to the Constituent Assembly elections in 2001 and the presidential elections in 2002, The Asia Foundation supported nationwide public surveys to develop voter-education materials and helped to organize major voter-education programs, and we worked to support independent poll monitoring to ensure that the elections were free and fair.
 Between 2002 and the next elections, in 2007, the government set about building vital national institutions such as the judiciary, the police, and the military; repairing infrastructure, 70 percent of which had been destroyed after the referendum; developing the economy; and establishing essential services. The road to democracy was not completely smooth, however, as this period was also marred by conflict and violence. In 2006, regional resentments fueled by the dismissal of 600 soldiers from the military triggered a violent political crisis. Over 150,000 people were displaced by armed clashes throughout the country. In response to the violence, the United Nations Security Council voted to establish a new mission, the United Nations Integrated Mission in Timor-Leste (UNMIT), which included an international police force to help restore security. During this time, The Asia Foundation focused on supporting government institutions, providing legal aid, and building the capacity of civil society organizations.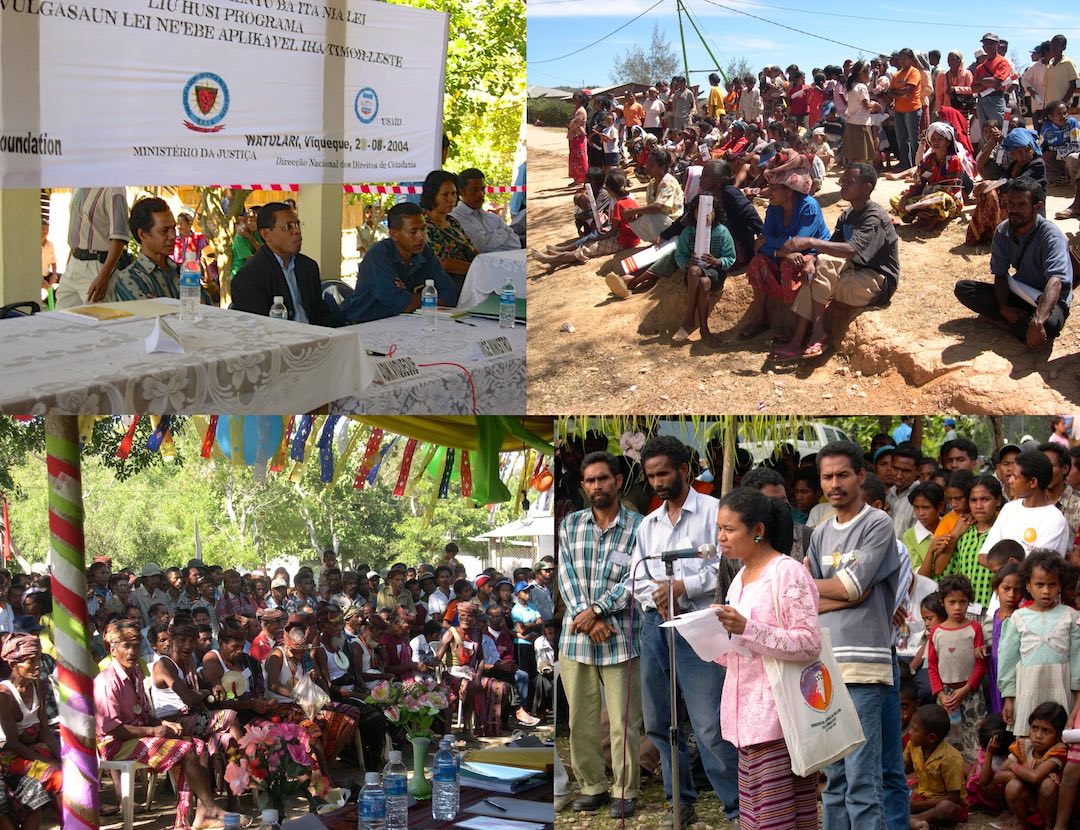 New presidential elections took place in May 2007, and Jose Ramos-Horta was elected president. One month later, parliamentary elections resulted in no party winning a majority, but eventually an alliance was formed, and Xanana Gusmão became prime minister. In the aftermath of the election there was significant violence, and hundreds of houses were burned. Political violence continued in 2008 with an assassination attempt against President Ramos-Horta and an armed attack on Prime Minister Gusmão.
While Asia Foundation programs continued to provide access to justice for citizens, security concerns still dominated people's lives, and in 2009 The Asia Foundation began working to develop a model of community policing with the Polícia Nacional de Timor-Leste to improve local security. Over the years, this program has established 251 community police councils, covering more than half of the communities in the country.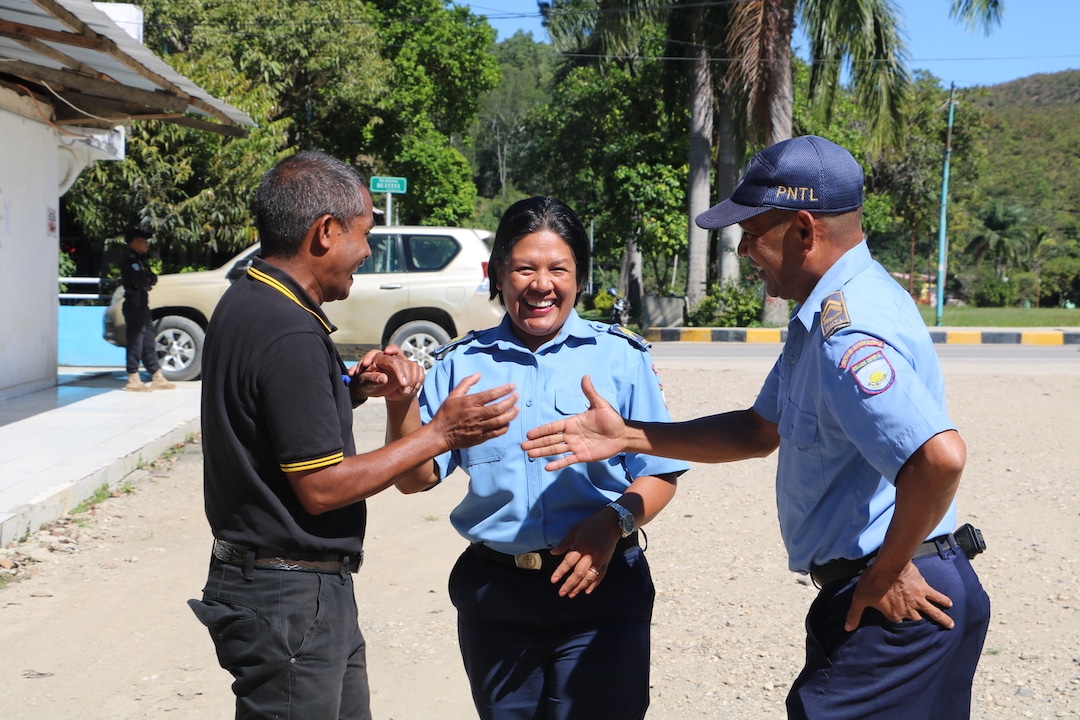 The year 2012 was a landmark with the conduct of peaceful, free, and fair elections. It was also the year in which the UN mission, present in Timor-Leste in various forms since 1999, departed. For many, the elections served as a test of the stability of the national political settlement. Memories of the 2006 crisis fueled widespread fears of more violence, but the 2012 elections turned out to be remarkably peaceful and a turning point in Timor-Leste's path to consolidating its young democracy. The presidential and parliamentary elections both proved to be major successes for Prime Minister Xanana Gusmão. His CNRT party won a plurality in the parliamentary elections, and Taur Matan Ruak, who was endorsed by Gusmão, was elected president in a run-off.
The period from 2012 to 2017 was a time of relative political stability, largely the result of a period of consensus politics. In 2015, Prime Minister Xanana Gusmão stepped down and nominated the former health minister and FRETILIN lawmaker Rui Maria de Araújo to succeed him. All of this happened without major incidents of violence.
The 2017 presidential election saw former FRETILIN independence fighter Francisco Guterres, popularly known as Lu Olo, sworn in as president. This was followed by parliamentary elections, in July 2017, in which no party secured a majority, and although FRETILIN formed a coalition, their minority government was unable to pass the government budget, sending voters back to the polls in May 2018, the tenth time since 1999.
In the run-up to the new parliamentary elections, The Asia Foundation supported televised debates between the parties to allow citizens to weigh for themselves the visions and platforms of each party. This time, a clear majority was won by the Alliance for Change for Progress, a coalition of three parties led by Xanana Gusmão. In June 2018, former president Taur Matan Ruak was appointed prime minister.
This was yet another peaceful transfer of power, despite the political impasse that had persisted since July 2017, demonstrating the commitment of the political parties to respect the decision of voters.
Today, Timor-Leste is a democratic country in which the principles of democracy, including free and fair elections, protection of human rights, and upholding the rule of law, are not only enshrined in its constitution but also practiced by its leaders. It is clear that the country has much to celebrate on August 30, and The Asia Foundation is proud to commemorate these achievements with the people of Timor-Leste.
Pauline Tweedie is The Asia Foundation's country representative in Timor-Leste. She can be reached at [email protected]. The views and opinions expressed here are those of the author, not those of The Asia Foundation.
About our blog, InAsia
InAsia
is a bi-weekly in-depth, in-country resource for readers who want to stay abreast of significant events and issues shaping Asia's development, hosted by
The Asia Foundation
. Drawing on the first-hand insight of renowned experts,
InAsia
delivers concentrated analysis on issues affecting each region of Asia, as well as Foundation-produced reports and polls.
InAsia
is posted and distributed every other Wednesday evening, Pacific Time. If you have any questions, please send an email to
[email protected]
.
Contact
For questions about
InAsia
, or for our cross-post and re-use policy, please send an email to
[email protected]
.
The Asia Foundation
465 California St., 9th Floor
San Francisco, CA 94104
The Asia Foundation Supports Leaders for a Better World