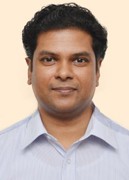 Deputy Country Representative, Sri Lanka
Johann Rebert joined the Foundation in 2014 and works on justice, security, and environment programs (including community policing and community mediation) in Sri Lanka. He is also involved in developing reconciliation-related programs and the expansion of the Foundation's presence in the Republic of the Maldives.
From 2011-2013, Johann Rebert worked for the peace-building organization International Alert, as country manager for Sri Lanka and the Maldives. In this capacity, he managed projects designed to engage young parliamentarians and the Sri Lankan diaspora and researched aid effectiveness, political economy, and the impact of climate change on human security. From 2008-2011, he served as Head of Programs for the British High Commission (BHC) in Sri Lanka, where he had oversight of several conflict prevention activities and was the lead DFID representative with regard to humanitarian projects in the north of Sri Lanka.
Among his other responsibilities, he led BHC funding for the Maldives, which involved setting strategy and providing support to projects related to election monitoring, governance and climate change. Johann also worked for five years as a strategic program manager at Save the Children in Sri Lanka focusing on issues such as juvenile justice, violence in families and schools, peer mediation and issues of children affected by armed conflict.
Education: Master's degree in Conflict Resolution from the Peace Studies Department of the University of Bradford, UK and a bachelor's degree (Hons) in Business Studies from the University of Sheffield, UK