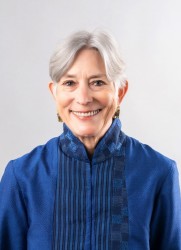 Executive Vice President and Chief Operating Officer
Suzanne E. Siskel is executive vice president and chief operating officer of The Asia Foundation, with accountability for supervision of the Foundation's day-to-day operations, serving as the president's deputy, and acting on behalf of the president in their absence. She ensures effective and supportive collaboration and flow of communications among all units of the Foundation, represents the Foundation to its external constituencies, advises and informs the president on strategy and policy issues, and provides overall supervision to the Foundation's Financial Services, Global Information Services, Human Resources, country office representation and operations, General Services, and internal audit units.
Previously she worked at the Ford Foundation from 1990 to 2011, serving in leadership positions in field offices in Southeast Asia and at the New York headquarters. In her last role there she was Ford's director of Social Justice Philanthropy, overseeing efforts to mobilize philanthropic resources and to build strong local and regional foundations engaged in social development in the United States and throughout the world. She also served as acting director of Ford's Gender Rights and Equality unit in support of women's economic rights, LGBT rights, and HIV/AIDS. In earlier roles heading Ford's offices in the Philippines and Indonesia, she was engaged in strengthening civil society; promoting economic development and community-based natural resources policy; educational reform; and enhancing local capacity for socioeconomic research and analysis.
Trained as a social anthropologist, Siskel has served variously as a consultant, university teacher, and researcher throughout Indonesia, rural northeast Brazil, and highland Chiapas, Mexico. She first lived and worked in Indonesia as a member of the first cohort of Luce Scholars in 1974 and later returned there as a Fulbright scholar and development advisor. Currently she is a trustee of the China Medical Board, Winrock International, and Enterprise Resources Trust; a member of the President's Council of the United Religions Initiative; co-president of the LAFF Society (the organization of Ford Foundation alumni), and serves on the executive committee of the board of the Orchestra of the Americas, advisory committee of the Global Leaders Program and the boards of the Vicente Canyon Hillside Foundation and Friends of the Fondation de France. She also has served on the governing council of the European Foundation Centre and was president of the Fulbright Association.
Education: Siskel studied social anthropology, receiving her bachelor's degree from Harvard University and her master's degree from The Johns Hopkins University, and is a member of Phi Beta Kappa.