While having witnessed rapid economic growth and a substantial reduction in poverty in recent years, Pakistan continues to face governance, security, and social challenges. Our programs foster greater participation of all citizens, particularly women and minorities, to benefit from shared prosperity accruing from economic development. We work with local partners to strengthen the democratic and political process, promote inclusive participation, and build the capacity of local institutions to meet the needs of citizens and sustain the gains of economic and social development.
Sadia Mansoor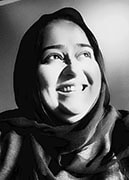 ,
Acting Country Representative
Addressing water security in Pakistan
Pakistan is the third-most water-stressed country in the world: inefficient agriculture, rapid population growth, and unplanned urbanization give it the world's fourth-highest rate of water consumption. Over 80 percent of the nation's water supply is currently unsafe, and experts fear Pakistan will run out of water by 2025. In 2017, the Foundation began a series of initiatives to increase technical knowledge of water security, promote policy dialogue, and empower vulnerable communities. We are collecting baseline data on water availability, sanitation, and hygiene focusing on key issues of drinking-water safety. With the International Union for the Conservation of Nature and the Ministry of Climate Change, we conducted a political economy analysis of water security and governance, and our partner, the Hisaar Foundation, is currently developing recommendations for a national water policy.
Asia's Free Digital Library Comes to Pakistan
Let's Read!, The Asia Foundation's free digital library, was launched in Pakistan in July, 2018 with the very first Urdu translation event. Access to quality books can be limited, especially in remote and turbulent areas. The Asia Foundation is scaling Let's Read! to 8,000 quality titles in 40 local languages across Asia, dramatically reducing barriers of availability and cost, and increasing the pool of trained writers and illustrators who can produce children's stories in local languages. Since the 1950s, The Asia Foundation's Books for Asia program has provided more than three million books to Pakistani students, marginalized groups and nonprofit organizations. In 2017, we started a new partnership with the Culture, Tourism, and Antiquities Department of Sindh Province to provide materials to education departments and institutions in Sindh and Balochistan.
2019 Lotus Leadership Awards Dinner
Wednesday May 29, 2019, San Francisco
Honoring Jennifer Cabalquinto, CFO of the Golden State Warriors, and Lana Condor, Actor and Philanthropist
2019 Lotus Leadership Awards Gala
Wednesday, May 29, 2019, San Francisco