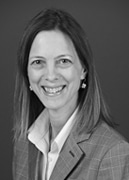 Country Representative, Mongolia
Meloney Lindberg is The Asia Foundation's country representative in Mongolia.
Lindberg previously served as The Asia Foundation's deputy country representative in Sri Lanka, where her focus was on the management of rule of law programming. She was also The Asia Foundation's deputy country representative in Afghanistan from 2004 – 2008, where she managed diverse programs related to the advancement of women and girls through education initiatives, worked with local Afghan organizations to pilot an awareness-raising program for community leaders on women's rights within an Islamic perspective, and facilitated the distribution of new texts and educational resources in English to schools, universities, public libraries, non-governmental organizations, and other institutions through the Foundation's Books for Asia program. She joined The Asia Foundation in 2002 as assistant country representative in the Philippines. In this position she helped to manage programs in countering corruption, economic reform, rule of law, and women's empowerment.
Prior to joining The Asia Foundation, Meloney Lindberg worked for the consulting firm Development Alternatives, Inc. (DAI) managing a multi-country study of women's organizations in post-conflict settings for USAID's Center for Development Information and Evaluation. She was also the project director for a global small grants initiative focused on property and inheritance rights, women's working conditions, and conservation-based income generating opportunities for women. From 1994 to 1998, Lindberg worked in The Asia Foundation's Nepal office as a program officer for Women's Legal Rights, Responsibilities, and Advocacy. She also previously served as coordinator of International Relations, International Exchange Department, Kagoshima City Hall, Kagoshima, Japan.
Education: Bachelor's degree in international studies from Miami University; master's degree in international and intercultural management from the School for International Training, World Learning; Brattleboro, Vermont.
Phone:
+ 976 (11) 330-524
Email:
[email protected]