Afghanistan is a country in transition and continues to face significant challenges that require improvements in security, the economy, governance, and education. The past year saw steps forward in education and women's rights, declining levels of migration, and continued commitments from the international community at the Brussels Conference, but much more progress is needed to create a stable and democratic society. The Asia Foundation supports the Afghan people through local programs and partnerships focused on improving rule of law, access to and quality of education, women's rights and empowerment, regional cooperation, and security.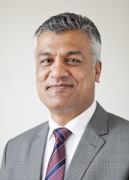 Abdullah Ahmadzai
Country Representative
Afghanistan in 2017: A Survey of the Afghan People
The number of Afghans who say the country is moving in the right direction has increased and optimism has risen slightly, reversing a decade-long downward trajectory in national mood. At the same time, fears about security and the economy affect attitudes about the future of the country, and a large number of respondents indicate they would leave the country if afforded the opportunity. The Survey of the Afghan People is the longest-running and broadest nationwide survey of Afghan attitudes and opinions. Since 2004, the Survey has gathered the opinions of more than 97,000 Afghan men and women, providing a unique longitudinal portrait of evolving public perceptions of security, the economy, governance and government services, elections, media, women's issues, and migration.
Building Foreign Affairs Capacity
Over the past decade, Afghanistan's Ministry of Foreign Affairs has increased its ability to manage relations with its neighbors and other countries. This includes strengthening the important role of the Ministry's Regional Cooperation Directorate, with Foundation support. The Directorate represents the Afghan government in regional forums through the 14-member country "Heart of Asia" dialogue, and our efforts have bolstered the ability of the Directorate's efforts to reduce tensions and improve relations in the area. Through the development of a research study on security cooperation, we worked with the Ministry to develop policy based on needs and trends. Finally, we supported more than 100 Afghan diplomats to develop English-language skills, an effort that took on special urgency after the president of Afghanistan issued a decree that diplomats must pass an English proficiency test to work abroad.
Improving Access to Information
Our Kabul office works across Afghanistan to improve the access and quality of education. 77 schools and community libraries received library management training and 253 women from 32 provinces were awarded scholarships to private universities.
Uncovering the Impact of
VIOLENCE AGAINST WOMEN AND GIRLS

China passed a crucial Anti-Domestic Violence Law, but they need hard data to implement it. Our survey uncovers the real human, societal, and business costs.
Uncovering the Impact of
VIOLENCE AGAINST WOMEN AND GIRLS