In Afghanistan, the Foundation maintains strong relationships with the government and civil society, leading to sustainable initiatives in governance and law, women's empowerment, education, regional cooperation, and the Survey of the Afghan People, conducted annually across all 34 provinces.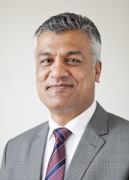 Abdullah Ahmadzai
Country Representative
Contact
The Asia Foundation – Afghanistan
Mailing Address:
P.O. Box 175
Kabul, Afghanistan
Tel: +93 799 343-462
Email: [email protected]
Afghanistan Flash Surveys in 2020-21
A global pandemic made it impossible to conduct The Asia Foundation's annual in-person Survey of the Afghan People this year. Instead, we carried out three waves of mobile phone surveys collecting the views of Afghan adults from all 34 provinces over six months. The Afghanistan Flash Survey series is designed to actively track public sentiment on a focused set of topics to support policymakers as they navigate a country in transition. Fieldwork for Wave 1, 2, and 3 took place from September 2020 to February 2021.
Afghanistan in 2019: A Survey of the Afghan People
Insecurity and economic uncertainty continue to be a concern for most Afghans; 84.4% say they would vote for a president who knows how to improve the economy, while 65.2% say they would vote for a president who accepts a peace agreement with the Taliban. Given the importance of peace, elections, and reconciliation, new Survey questions in 2019 ask Afghans what they might be willing to sacrifice to reach a peace deal, including the constitution, democratic elections, freedom of speech, and the presence of foreign military forces. The Survey of the Afghan People is the longest-running and broadest nationwide survey of Afghan attitudes and opinions. Since 2004, the Survey has gathered the opinions of more than 129,000 Afghan men and women, providing a unique longitudinal portrait of evolving public perceptions.
Educating women and girls
We support training in science, mathematics, and computer literacy to teachers and others in over 120 Afghan schools, reaching more than 12,000 female teachers and students. Of the more than 8,000 Afghan children who directly benefit, nearly 6,000 are girls. Funded by USAID, the Strengthening Education in Afghanistan project also prepares Afghan girls in Kandahar province for the national public university entrance exam. Last year, 78 percent of girls who received support passed the 2018 exam and gained entry to a four-year national university. Another 10 percent will pursue higher education at two-year national higher education institutions.
2020 Annual Report
Addressing the global crisis