Nepal's new Constitution enshrines a federal form of governance, and local, provincial, and national elections were held in early 2018. The return of elected local government after nearly two decades represents an opportunity to bridge the historical gap between the state and the people. The Asia Foundation supports Nepal's efforts to strengthen subnational governance, mitigate conflict, empower women, expand economic opportunity, increase environmental resilience, and promote regional cooperation.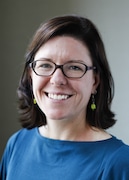 Meghan Nalbo,
Country Representative
Using data to solve conflicts and violence in postearthquake recovery
After years of political turmoil and two devastating earthquakes, the transition to federalism in Nepal has created new opportunities for managing conflict and violence. Since 2001, our flagship community mediation program has been instrumental in institutionalizing mediation in Nepal, with coverage in 19 districts throughout the country. With funding from the Governance Facility, The Asia Foundation has worked extensively on knowledge creation and policy reform. With funding from the Australian Government, our partners have deployed some 4,000 mediators and handled 7,000+ disputes related to post-earthquake recovery. The Foundation has also developed a computerized database system to analyze, track, monitor, and evaluate the mediation process. Using data tools to untangle the complexities of conflict in Asia, the Foundation, supported by the International Development Research Centre, has pioneered the use of Violent Incident Monitoring Systems. As elections were approaching, our partner, Collective Campaign for Peace, used the violence data to produce 15 reports on political dynamics and violence in Nepal.
Labor migration and the changing workforce
Much of the world is on the move, drawn by the promise of jobs or a better living. With a ten-fold increase in labor migration in the past decade, much of Nepal's workforce now makes the perilous journey to work abroad, furnishing nearly a third of the country's GDP. In a series of Asia Foundation reports funded by USAID, we explore the broader effects of this exodus on Nepali households and communities. Labor Migration and the Remittance Economy unpacks the social and political implications, and another study explored the cultural and psychological effects on workers and their families, including the potential for abuse and psychological trauma.
Independent Impacts and Recovery Monitoring Nepal
On 25 April 2015, a powerful 7.8-magnitude earthquake struck Nepal. Thousands were killed, tens of thousands were injured, and hundreds of thousands of homes were damaged or destroyed. A second major earthquake struck less than three weeks later, killing hundreds more and adding to the destruction. National and international aid providers quickly responded with emergency aid. But developing effective plans for long-term sustainable recovery requires knowledge of the needs of the affected, how they evolve over time, and the effectiveness of aid in addressing these needs. The Independent Impacts and Recovery Monitoring Nepal (IRM) project contributes to this by assessing longitudinally five issues through two research components.
2019 Lotus Leadership Awards Dinner
Wednesday May 29, 2019, San Francisco
Honoring Jennifer Cabalquinto, CFO of the Golden State Warriors, and Lana Condor, Actor and Philanthropist
2019 Lotus Leadership Awards Gala
Wednesday, May 29, 2019, San Francisco