In Nepal, the Foundation supports the country's efforts to strengthen subnational governance, mitigate conflict, empower women, expand economic opportunity, increase environmental resilience, and promote regional cooperation.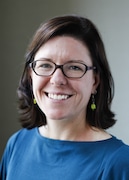 Meghan Nalbo,
Country Representative
Contact
The Asia Foundation – Nepal
P.O. Box 935
Buddhisagar Marg, Ward No. 3
Panipokhari, Kathmandu, Nepal
Tel: +977 (1) 444-3316
Email: [email protected]
Independent Impacts and Recovery Monitoring Nepal
On 25 April 2015, a powerful 7.8-magnitude earthquake struck Nepal. Thousands were killed, tens of thousands were injured, and hundreds of thousands of homes were damaged or destroyed. A second major earthquake struck less than three weeks later, killing hundreds more and adding to the destruction. National and international aid providers quickly responded with emergency aid. But developing effective plans for long-term sustainable recovery requires knowledge of the needs of the affected, how they evolve over time, and the effectiveness of aid in addressing these needs. The Independent Impacts and Recovery Monitoring Nepal (IRM) project contributes to this by assessing longitudinally five issues through two research components.
Labor migration and the changing workforce
Many of Nepal's citizens work abroad where they can access higher wages. Though remittances contribute significantly to the national economy, migrant workers suffer due to limited awareness of labor market opportunities, recruitment and migration processes, money management skills and financial literacy. With funding from U.K. DFID, the ILO, and MetLife Foundation, we leveraged mobile and digital platforms, multimedia formats, and live call-in radio to connect migrant workers to financial access points, mobile course materials, and job opportunities. In just one year, 527,000+ individuals accessed these resources directly through their mobile devices, plus 15,000+ viewers per day on social media.
2020 Annual Report
Addressing the global crisis