In Nepal, the Foundation supports the country's efforts to strengthen subnational governance, mitigate conflict, empower women, expand economic opportunity, increase environmental resilience, and promote regional cooperation.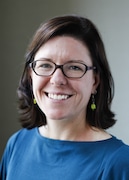 Meghan Nalbo,
Country Representative
Contact
The Asia Foundation – Nepal
P.O. Box 935
Buddhisagar Marg, Ward No. 3
Panipokhari, Kathmandu, Nepal
Tel: +977 (1) 444-3316
Email: [email protected]
Support for alternative dispute resolution during Covid-19
Formal and informal justice system agencies have had to limit or suspend operations during Covid, causing devastating impacts for vulnerable populations. With increasing concerns regarding access to justice, the Foundation's Subnational Governance Program provided alternative dispute resolutions–dialogue, and community-based justice programs that helped to reduce the burden on formal judicial mechanisms. Throughout the pandemic, these networks played a crucial role in coordinating Covid-19 containment strategies, sharing health information, and distributing relief. The Foundation also continued to support 74 judicial committees and 23 dialogue forums across the seven newly established federal provinces serving 6,000 community members.
Long-term impacts of a devastating earthquake
In 2015, Nepal was reeling from a colossal earthquake that killed and injured thousands, destroyed homes, livelihoods, and critical infrastructure. Over the course of reconstruction, the Foundation launched a social impacts monitoring project to develop an accurate picture of long-term disaster effects, recovery patterns, and evolving needs. Over the five years since the earthquake, The Independent Impacts and Recovery Monitoring Project has collected data from thousands of affected households. Findings collected made it possible to illustrate a detailed and evolving portrait of the nation's recovery and remaining challenges, while also assisting the Nepal Reconstruction Authority to develop effective approaches for disaster response.
2023 Leaders on the Frontlines
Join us in San Francisco on October 12, 2023, to honor Niwat Roykaew.