Cambodia's remarkable private sector-driven growth over the past decade has resulted in development benefits for many Cambodians, but it is uneven. Women, girls, and the poor remain vulnerable. Addressing these challenges, our Cambodia office works to empower women by supporting educational opportunities, economic inclusion, and safety and security; equip youth with the skills needed for the future economy; support integrated regional development; and improve public service delivery. All of these efforts reinforce the Foundation's long-standing commitment to the Kingdom's continued peace and prosperity.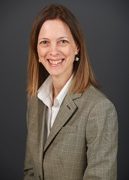 Meloney Lindberg,
Country Representative
Creating Access to Information
Despite the fact that 90% of Cambodia's 700,000 garment and footwear workers are women, our research revealed little information is available about job opportunities for low skilled women in the labor market. We piloted a call center, Bong Srey, to assess demand for information about job opportunities and recruitment services in the garment industry, and data quickly indicated a high demand for such information. During the pilot's six weeks, 800 calls were received from workers and numerous job openings were posted by 12 factories. We now partner with Cambodia's largest job information portal to scale up the project into a standalone, socially responsible business.
Preventing Domestic Violence
One in five Cambodian women experience domestic violence—and one in 10 in the last 12 months. Our research revealed alcohol is a trigger for male partners. In 2016, we brought together authorities and citizens in 30 communes to raise awareness of the harm associated with alcohol abuse; to set restrictions on use; and make counseling services available for abusers of alcohol so they can seek help. Early evaluations indicate violence is down among participating communes.
Uncovering the Impact of
VIOLENCE AGAINST WOMEN AND GIRLS

China passed a crucial Anti-Domestic Violence Law, but they need hard data to implement it. Our survey uncovers the real human, societal, and business costs.
Uncovering the Impact of
VIOLENCE AGAINST WOMEN AND GIRLS