Cambodia's remarkable private sector-driven growth over the past decade has resulted in development benefits for many Cambodians, but it is uneven. Women, girls, and the poor remain vulnerable. Addressing these challenges, our Cambodia office works to empower women by supporting educational opportunities, economic inclusion, and safety and security; equip youth with the skills needed for the future economy; support integrated regional development; and improve public service delivery. All of these efforts reinforce the Foundation's long-standing commitment to the Kingdom's continued peace and prosperity.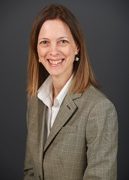 Meloney Lindberg,
Country Representative
TEK4Good
With a median age of 25, Cambodians have eagerly adopted the latest mobile and internet technology, but young Cambodian entrepreneurs in the tech industry need support and an enabling environment to bring their ideas to fruition. We've built an open co-working space for tech startups in our office in Phnom Penh. So far, we've supported four local startups, including a woman-run company, and hosted multiple skill-sharing events for entrepreneurs, students and experts. These programs have already been recognized for their impact. Education start-up WeduShare grew from a three-person team to more than 10 full-time staff, and its revenue allowed the company to rent a dedicated outside office space. Web and mobile developer Codingate won the 2017 Cambodia Rice Bowl Awards for best startup and best founder, and its founder has been featured in Forbes Magazine's "30 under 30" in Asia: Enterprise Tech.
Creating Access to Information
Despite the fact that 90% of Cambodia's 700,000 garment and footwear workers are women, our research revealed little information is available about job opportunities for low skilled women in the labor market. We piloted a call center, Bong Srey, to assess demand for information about job opportunities and recruitment services in the garment industry, and data quickly indicated a high demand for such information. During the pilot's six weeks, 800 calls were received from workers and numerous job openings were posted by 12 factories. We now partner with Cambodia's largest job information portal to scale up the project into a standalone, socially responsible business.
2019 Lotus Leadership Awards Dinner
Wednesday May 29, 2019, San Francisco
Honoring Jennifer Cabalquinto, CFO of the Golden State Warriors, and Lana Condor, Actor and Philanthropist
2019 Lotus Leadership Awards Gala
Wednesday, May 29, 2019, San Francisco