Ongoing tensions between communities expose the fragility of Sri Lanka's post-war landscape. In this context, the Foundation's portfolio includes strengthening subnational governance to advance local democracy; enabling access to justice and building community security; facilitating post-trauma psychosocial support; supporting localized inter-ethnic peacebuilding efforts; and creating opportunities for ethnic groups to strengthen economic linkages. While Sri Lankans are eager to build on the good governance agenda that ushered in the coalition government in 2015, they are also concerned about security and peace, the cost of living, securing safe and dignified employment, and addressing community security issues related to gender-based violence and substance abuse.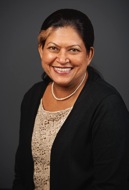 Dinesha de Silva,
Country Representative
Contact
The Asia Foundation – Sri Lanka
30/1 Bagatalle Road
Colombo 3, Sri Lanka
Tel: + 94 (11) 205-8701
Email: [email protected]
Gender-sensitive police stations
Nearly a decade after the end of armed conflict, more has to be done to strengthen the relationship between communities and the police, particularly in conflict-affected areas. Officers still struggle to inspire and build public trust in policing. With support from the British High Commission, we have contributed significantly to wide-ranging police reforms with technical support from Police Scotland, with an emphasis on addressing gender-based violence and promoting gender equality within the force. 568 Officers-In-Charge of local police stations throughout the country participated in training on community policing. In addition, a national workshop on responding to gender-based violence and effective referral services was conducted for all 42 Divisional Commanders of the Children and Women's Bureau, followed by a series of district-level workshops to facilitate implementation at the district level.
Educating communities to press for vital resource management
The lush Kelani River is the main source of drinking water for over four million people in greater Colombo. It is also Sri Lanka's most polluted river. The Asia Foundation and local partner the Environmental Foundation Limited (EFL) have been educating communities to press for better stewardship of the river on which they depend. In 2017, EFL extensively mapped the most polluted 40 km of the river and produced a comprehensive guidebook identifying 150 pollution sources, primarily from industry. Sixty-three volunteers from 15 community-based organizations received training to monitor water quality and identify pollution sources. In partnership with other experts, the project has begun to enable communities to engage with polluters and bring their findings to the government's Central Environment Authority to spur investigations of illegal discharges and make much needed changes.