Sri Lankans are eager to move beyond the good governance rhetoric that ushered in the historic coalition government in 2015 and are now focused on concrete challenges like rising prices, growing unemployment, and weakening momentum in national reconciliation. Ongoing sporadic ethnic clashes highlight the fragility of the hard-won peace dividends. The Foundation's portfolio includes strengthening subnational governance to advance local democracy; enabling access to justice and community security; facilitating post-trauma psychosocial support; supporting localized inter-ethnic peacebuilding efforts; and creating opportunities for ethnic groups to strengthen economic linkages.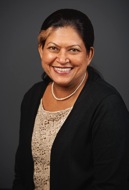 Dinesha de Silva,
Country Representative
Addressing Voters' Priorities
Sri Lanka's economic growth has accelerated since the end of the war, but investment, and employment are still concentrated around the country's capital Colombo. Sri Lankan government, private sector, and civil society all acknowledge the need for lagging regions to catch up if future conflict is to be avoided. Although the end of the conflict ushered in opportunities for reviving economic growth, peace may be threatened if economic disparities are not addressed. To help these regions evolve as robust economic centers and identify and promote new business ideas at the local level, we facilitated a more participatory mechanism for citizen input on budget allocations to support these new projects. We then piloted an Online Budget Management tool that helped local governments prioritize the citizens' priorities, and as a result, nine local governments were able to jumpstart practical revenue-generating projects citizens really wanted, including a large supermarket complex in Jaffna and a Pilgrim Resting Center in Katargama for travelers to the sacred city.
Building Economic Resilience
To support local economic activity, we tested a first of its kind survey of businesses using digital tablets programmed with real-time analytics. Our goal was to analyze two factors: sophistication of small enterprises to adopt new strategies and technologies, and performance, including issues like turnover and employment. The survey will roll out nationwide in 2017.
Uncovering the Impact of
VIOLENCE AGAINST WOMEN AND GIRLS

China passed a crucial Anti-Domestic Violence Law, but they need hard data to implement it. Our survey uncovers the real human, societal, and business costs.
Uncovering the Impact of
VIOLENCE AGAINST WOMEN AND GIRLS