Two years after Sri Lanka's historic 2015 elections ushered in a coalition government with a strong political mandate to pursue good governance, accountability, and reconciliation, citizens here remain hopeful that their expectations for broad-based reform will be fulfilled. The Asia Foundation is committed to sustaining peace and prosperity in Sri Lanka by strengthening institutions of governance, security, and justice. We are working to promote inclusive economic growth and development, particularly at the subnational level; to advance local democracy and access to justice; to help communities and individuals recover from trauma and violence; and to promote citizens' participation in the decisions that affect their communities.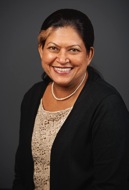 Dinesha de Silva,
Country Representative
Addressing Voters' Priorities
Sri Lanka's economic growth has accelerated since the end of the war, but investment, and employment are still concentrated around the country's capital Colombo. Sri Lankan government, private sector, and civil society all acknowledge the need for lagging regions to catch up if future conflict is to be avoided. Although the end of the conflict ushered in opportunities for reviving economic growth, peace may be threatened if economic disparities are not addressed. To help these regions evolve as robust economic centers and identify and promote new business ideas at the local level, we facilitated a more participatory mechanism for citizen input on budget allocations to support these new projects. We then piloted an Online Budget Management tool that helped local governments prioritize the citizens' priorities, and as a result, nine local governments were able to jumpstart practical revenue-generating projects citizens really wanted, including a large supermarket complex in Jaffna and a Pilgrim Resting Center in Katargama for travelers to the sacred city.
Building Economic Resilience
To support local economic activity, we tested a first of its kind survey of businesses using digital tablets programmed with real-time analytics. Our goal was to analyze two factors: sophistication of small enterprises to adopt new strategies and technologies, and performance, including issues like turnover and employment. The survey will roll out nationwide in 2017.