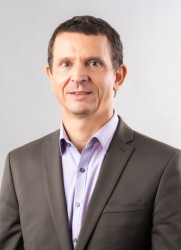 Regional Director, Conflict and Fragility
Dr. Adam Burke is The Asia Foundation's director of Conflict and Fragility, effective October 2018. With almost 20 years of experience working across Southeast and South Asia, Burke is a distinguished specialist in conflict, peacebuilding, and development, having worked as researcher and practitioner on many aspects of conflict prevention across the region. As director, he leads the Conflict and Fragility program in addressing pressing conflict, fragility, violence, and security issues and programming opportunities. In addition, he oversees technical support to the Foundation's country programs in countries affected by conflict, violence, and fragility, including Afghanistan, Bangladesh, Myanmar, Nepal, Pakistan, the Philippines (Mindanao), Sri Lanka, and Timor-Leste.
Prior to his appointment as the Foundation's director of the Conflict and Fragility program, Burke undertook a number of assignments with The Asia Foundation, including an independent evaluation of the Foundation's work in conflict-affected areas in southern Thailand and analysis of the development trajectory of Malaysia and Thailand as advanced middle-income countries. Most recently, he served as lead researcher and author of the Foundation's 2017 report Contested Areas of Myanmar: Subnational Conflict, Aid and Development.
Burke has also undertaken a variety of projects for the United Kingdom, the United Nations, the World Bank and Asian Development Bank, and the Organization for Economic Cooperation and Development. His most recent assignments have been an assessment for the ADB on the risks associated with reconstruction following the 2017 siege of Marawi, Mindanao; and context analysis for the UN in support of efforts to counter communal violence in Sri Lanka. He researched approaches to political risk in East Asia for the World Bank; gave technical guidance on DFID's peacebuilding strategy in Nepal; and provided technical support to the UK Government for the development of a post-conflict reconstruction and stabilization strategy for Pakistan.
Since 2014, Burke has focused significant attention on subnational conflicts in Myanmar, including as conflict adviser to the $400 million, multi-donor funded Livelihoods and Food Security Trust Fund (LIFT); conflict assessments of World Bank community-driven development initiatives; and scenario planning in Rakhine State for a coordinating group of UN heads of agency. His earlier formal development partner experience includes a three-year tenure as social development adviser with DFID.
His geographic experience includes Indonesia, Laos, Malaysia, Nepal, Pakistan, Pakistan, Philippines, Sri Lanka, Thailand, Vietnam, and other countries. Burke's research, writing, technical guidance, evaluation, and broader work has underlined the importance of understanding, accounting for, and responding to specific political contexts in peacebuilding and development, with political economy analysis figuring prominently in all aspects of his work. Throughout his career, he has sought to engage at the policy level from a basis of solid research and an understanding of ground realities.
Burke's academic and related experience includes lecturing on development practice and peacebuilding at universities in Asia and Europe; speaking roles in national, regional, and international policy forums; and publication of peer-reviewed papers and policy studies. He is also an associate of The Policy Practice and Oxford Policy Management.
Education: Adam Burke holds a bachelor's degree from the University of Oxford, and holds a master's degree in Anthropology of Development and a doctoral degree in Development Studies from the University of London School of Oriental and Asian Studies (SOAS).