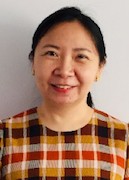 Senior Program Officer, Thailand
Arpaporn Winijkulchai is a senior program officer for The Asia Foundation in Bangkok, where she has over 20 years of program management experience. She first served with the Foundation as a program officer for Books for Asia in Vietnam starting in 1997, coordinating with the Books for Asia Program in San Francisco and educational institutes in Vietnam. She later joined the Thailand office to implement projects on anti-human trafficking, civic participation in local governance, women's empowerment, pondok reform, environment, economic development, criminal justice, education, and technology. She currently manages projects promoting the human rights of women and girls, persons with disabilities, and LGBTI persons in Thailand, the Safe Smart Digital Asia project, as well as managing other projects for the Thailand and San Francisco offices.
Education: Master's degree in Information Science from Sukhothai Thammathirat Open University, Thailand, and bachelor's degree in Mass Communications from University of the Thai Chamber of Commerce, Thailand.