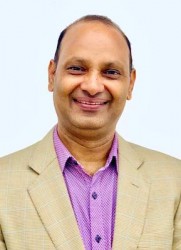 Governance Director, Nepal
Bishnu Adhikari is governance director for The Asia Foundation in Nepal, with over 18 years of experience in the field of civil society, political and electoral system and local governance as an adviser, and university lecturer. In January 2017, Bishnu joined the Foundation's Nepal office as director for its Subnational Governance Program. Prior to this, Bishnu was deputy team leader of Economic Policy Incubator, a research and public policy project of DFID Nepal to support sub-national economic growth. From 2013-16, Bishnu was Governance Adviser to DFID Nepal following from his roll as the Strategy and Governance Adviser to DFID/Nepal's civil society program Enabling State Program (2011 to 2013). Bishnu served for a decade (2000-2010) with USAID/Nepal advising on Democracy and Governance issues, including as the deputy team Leader of the Democracy and Governance/Conflict Mitigation Office. From 1996-2000 Bishnu led high profile research projects on political developments, refugees and decentralization in Nepal as a lecturer of political science at the Center for Nepal and Asian Studies at Tribhuvan University.
Education: Bishnu holds a master's degree in Political Science from Tribhuvan University, and was a Democracy, Development and Rule of Law Fellow at Stanford University.