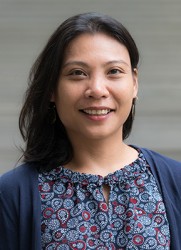 Director, Finance, Grants, and Administration, Myanmar
Cynthia Ramirez is director for Finance, Grants and Administration for The Asia Foundation's Myanmar office. In this capacity she is responsible for the implementation of financial and grants management systems, policies, and procedures, provides oversight for the Finance, Grants and Administration team and technical assistance to other Foundation staff and Foundation grantees in Myanmar. Prior to this role, Ramirez worked for The Asia Foundation for 10 years in different capacities, initially joining the Foundation as finance and grants assistant in 2006 for the Philippines office and from 2013 to 2016 served as finance manager for the Timor-Leste office.
In addition to the Foundation, Ramirez has worked for other international development project in the Pacific.  Most recently, Ramirez was finance and operations manager for Pacific Women Shaping Pacific Development (Pacific Women) Support Unit, based in Suva, Fiji, where she was a key member of the senior management and led the finance, grants and operations team.  Pacific Women is a program supported by the Australian Government (DFAT) to improve the political, economic and social opportunities of Pacific Women that commits up to $320 million over 10 years in 14 Pacific Island Nations.