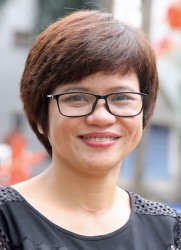 Education Specialist and Government Relations Officer, Vietnam
Dinh Thi Kieu Nhung is responsible for education programming at The Asia Foundation in Vietnam, managing scholarship programs for disadvantaged girls and young women, vocational training program for disadvantaged youth, the Books for Asia program, facilitating educational exchanges, and serves as a liaison officer with Vietnamese government representatives overseeing the office's registration and operations.
Having served with The Asia Foundation in Vietnam since the office opened in 2000, Nhung has managed a variety of programs and provided extensive technical and capacity-building support to the Foundation's local partners.
Education: Nhung holds a bachelor's degree in English language from Hanoi University.