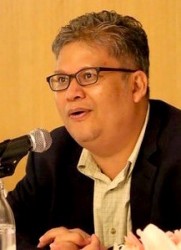 Senior Program Officer, Regional Security Cooperation
Don Pathan is a senior program officer for Regional Security Cooperation at The Asia Foundation, Thailand, with over 20 years of professional experience working in international relations, transnational crime, drugs and insurgencies in Southeast Asia, and separatist movements in Thailand's Muslim-majority south. He joined the Foundation in March 2019. Pathan spent the past two decades covering diplomacy, international relations, transnational crime, and insurgency in Southeast Asia as a consultant for various international organizations and wrote for a wide range of publications and media outlets.
Pathan briefs diplomats, international think tanks, and others on security matters and peace-building initiatives on a regular basis. He co-authored Confronting Ghosts: Thailand's Shapeless Southern Insurgency with Dr. Joseph Liow (S. Rajaratnam School of International Studies in Singapore) and wrote a chapter in the Trouble in the Triangle: Opium and Conflict in Burma in which he examined the nexus between the United Wa State Army, the Thai government, and the military regime of Myanmar. He also co-authored Borders of/on the mind, borders in the jungle: Islamic insurgency and ethno-religious irredentism in southern Thailand with Sciences-Po's Prof. David Camroux in Promoting Conflict or Peace through Identity, Ashgate Publishing. Pathan is one of the founder of Patani Forum, a civil society organization dedicated to critical discussion on the nature of the conflict in southern Thailand. Pathan is a member of the SEAN-CSO standing committee since June 2016 and assisted Deakin University, Australia, in guiding this initiative.
Education: Pathan graduated from The University of Texas at Austin in 1993 with a bachelor's degree in History and Middle Eastern Studies.