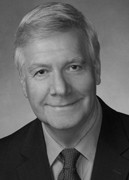 President and CEO of The Asia Foundation, 2004-2011
Mr. Bereuter retired as the President and CEO of The Asia Foundation on December 31, 2010. Mr. David D. Anold replaced him as President on January 1, 2011.
Doug Bereuter became the president of The Asia Foundation on September 1, 2004, immediately upon his resignation from U.S. Congress after twenty-six years of service. During his congressional career, he was a leading member of the House International Relations Committee, where he served as vice chairman for six years, chaired the Asia – Pacific Subcommittee for the maximum limit of six years, chaired the Europe Subcommittee immediately before his departure, was ranking minority member of the Human Rights Subcommittee for six years, and had a long tenure on its Subcommittee on Economic Policy & Trade. He also served on the House Financial Services Committee for twenty-three years, and for sixteen years, chaired or served as ranking minority member of the Subcommittee on International Institutions, which has oversight jurisdiction for American participation in the Asian Development Bank, the World Bank, other regional development banks, the U.S. Export-Import Bank, and the IMF.
Mr. Bereuter served nearly ten years on the House Permanent Select Committee on Intelligence, retiring as its vice chairman. Additional congressional responsibilities include serving as the founding co-chairman of the Congressional-Executive Commission on China, chairing the Speaker's Task Force to Monitor and Report on the Transition of Hong Kong (1996-2002), and chairing the House Delegation to the 40-country NATO Parliamentary Assembly, where he presided as its president for two years until November, 2004. His congressional service also included active leadership roles on congressional inter-parliamentary exchanges with the European Parliament, Japan, Korea, China, and the United Kingdom.
Among notable legislative achievements in international affairs, Mr. Bereuter was co-author of the Bereuter-Levin Amendment, which made possible the passage of the act granting Permanent Normal Trading Relations for China. He is also responsible for starting the very successful USAID Farmers-to-Farmers technical assistance program, which has taken thousands of American volunteers abroad. In 2004, Congress formally added his name to the title of this program, as it did to two separate domestic programs for Federal flood insurance reform and for a home loan guarantee program, which he successfully initiated.
Mr. Bereuter graduated Phi Beta Kappa from the University of Nebraska, has master's degrees from Harvard University in both city planning and public administration. Currently, he serves on the Visiting Committee for Harvard's John F. Kennedy School of Government and was the first elected official to receive the Kennedy School's Outstanding Alumni Award. He served as an infantry and intelligence officer in the U.S. Army, practiced and taught graduate courses in urban and regional planning, led various agencies and programs in Nebraska State Government, and served one four-year term as a Nebraska State Senator before his election to the U.S. House of Representatives in 1978.
For his work on European and NATO issues, he is the recipient of decorations from the governments of Bulgaria, Lithuania, and Romania. His service also includes presidential appointment as a delegate to the United Nations 42nd General Assembly. He currently serves on the governing boards of the Council on Foundations, LMI, and the National Arbor Day Foundation. He is also a member of the USAID's Advisory Committee on Voluntary Foreign Aid (ACVFA), Council on Foreign Relations, the World Affairs Council of Northern California, the Pacific Council on International Policy, and the International Advisory Board of the Graduate School of International Relations and Pacific Studies at University of California-San Diego.
Education: B.A. from the University of Nebraska; Master's degrees in both city planning and public administration from Harvard University.
Read Mr. Bereuter's recent announcement of his intention to retire on December 31, 2010.