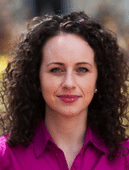 Assistant Director, Women's Empowerment Program
Elizabeth Romanoff Silva is assistant director of the Women's Empowerment Program. She joined The Asia Foundation in July 2015 as program officer for the Women's Empowerment Program. Silva works closely with the Foundation's country offices, programs, and other units, and provides technical assistance on a range of women's empowerment and gender issues including women's economic empowerment and women's entrepreneurship, violence against women, political participation and education. In addition, she contributes to designing and implementing gender mainstreaming trainings for Foundation staff, and gender analysis and mainstreaming across the Foundation's program areas.
Prior to joining the Foundation, Elizabeth Romanoff Silva worked as an improvement specialist for Gender and Knowledge Management on the USAID Applying Science to Strengthen and Improve Systems (ASSIST) Cooperative Agreement. In this role, she served as the point-person for gender integration across more than 15 countries. She conducted numerous gender trainings for field office staff and implementing partners and provided technical support and guidance in strategic planning, implementation, monitoring and evaluation, and capturing and disseminating gender learning. Previously, Silva worked on gender and knowledge management at Save the Children, which included conducting gender audits and co-authoring a gender mainstreaming toolkit. Elizabeth Romanoff Silva is also a Fulbright Scholar; she conducted research on gender equality and women's economic and political empowerment during and after Communism through the Fulbright Program.
Education: Elizabeth holds a master's degree in Public Administration with a concentration in International Development Management from the Middlebury Institute of International Studies at Monterey and a bachelor's degree in World Cultures and Languages from California State University Monterey Bay. She holds certificates in Development Project Management and Mandarin Chinese.
Phone:
(202) 588-9420
Email:
elizabeth.silva@asiafoundation.org