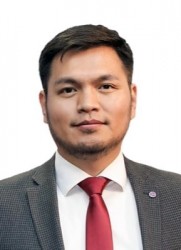 Director, Law and Justice, Mongolia
Gantulga Ganbaatar has worked in The Asia Foundation's office in Mongolia since 2014. He started as a project officer at the Foundation, working on many different initiatives and issues such as urban services improvement work, green development in Ulaanbaatar, governance, and anti-corruption. Starting 2017, he started to manage projects on combating human trafficking and capacity development of young legal professionals. Currently, he is the director for Law and Justice programs at the Foundation overseeing the Law and Justice portfolio. Gantulga brings nearly seven years of experience in human trafficking issues in Mongolia and over five years of law and justice sector experience, especially capacity development of judges, prosecutors, and attorneys. He serves in the senior leadership team of the Foundation's Mongolia office. Previously, he worked in the education and healthcare sector as an analyst and a coordinator before joining the Foundation.
Education: He earned his master's degree in Business Administration from Colorado Heights University in 2013, and bachelor's degree in Hospitality, Tourism and Events from Metropolitan State University of Denver in 2010.