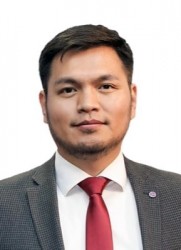 Program Manager, Law and Justice, Mongolia
Gantulga Ganbaatar has been a part of at The Asia Foundation's Mongolia Office since 2016. He started as a project officer at the Foundation to work on many different initiatives and issues such as urban service improvement work, namely solid waste management, green development of the City of Ulaanbaatar, governance, and anti-corruption, then was promoted to a project and program manager to work on anti-human trafficking, and law and justice projects in Mongolia. Gantulga has been managing anti-human trafficking, and law and justice projects and initiatives since 2017. Currently he is the Law and Justice Program Manager. Gantulga brings more than four years of experience in anti-human trafficking issues in Mongolia and over three years' law and justice sector experience, especially improving and revising continuing legal education training for attorneys, prosecutors, and judges.
Before joining and rejoining the Foundation, he worked as a data analyst and academic affairs coordinator in Colorado Heights University for three years and worked as a research and administrative coordinator for Healthcare Association of Hawaii for six months.
Education: He earned his master's degree in Business Administration from Colorado Heights University in 2013, and bachelor's degree in Hospitality, Tourism and Events from Metropolitan State University of Denver in 2010.