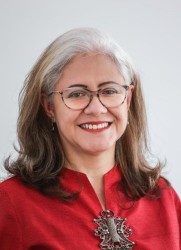 Country Representative, Indonesia
Hana Satriyo is country representative for The Asia Foundation in Indonesia, where she oversees the office's day-to-day operations. She is actively involved in all areas of the Foundation's operations, including financial, administrative, and personnel management, and overseeing program development. Hana is a senior development professional with over twenty years of experience in developing and managing programs in Indonesia. Hana Satriyo joined the Foundation in 1998 as a program officer and previously served as the deputy country representative. She was also the director for Gender and Women's Participation and Environmental Governance programs. A development professional, her areas of expertise include environmental and local governance, decentralization, gender equality, human rights, and legislative development.
Education: Master's degree in International Politics of Asia from the School of Oriental and African Studies at the University of London, and a bachelor's degree in International Relations from Padjadjaran University, Indonesia. She received an Honorary Doctor from the University of Portsmouth, UK.