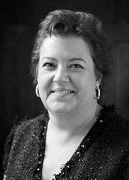 Trustee of The Asia Foundation
Lotus Circle Advisor
Janet Montag is a community leader and a philanthropist residing in New York City after living abroad in London and Tokyo. She is a founding member and chairman of the Advisory Board of the Global Mental Health Program at Columbia University, where the mission is to promote mental health and reduce the burden of mental illness around the globe. Janet sits on an Advisory Board of ARZU Studio Hope, whose mission is to empower women in Afghanistan and break the cycle of poverty by sourcing and selling rugs. She is a former Trustee of Asian University for Women, a higher education institution for women across Asia based in Bangladesh.
Janet serves on the Board of the New York Botanical Gardens in the Bronx, New York. She is also a member of the International Advisory Board of the Portland Japanese Garden. Janet serves on a task force for the undergraduate program as well as a Parent Advisory Board at Stanford University. She is a former Trustee of the Pacific Ridge School in Carlsbad, a college preparatory school.
Janet holds a BBA degree in Finance from Emory University and she is a former corporate finance banker with JP Morgan.