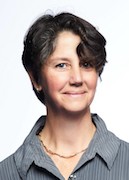 Director, Business Information Systems
Jenna Booth is The Asia Foundation's director of Business Information Systems, based in the San Francisco office. Jenna works closely with finance staff in San Francisco, Washington, DC, and Asia as well as with project and country leadership on upgrading financial management and information systems, databases and reports.
Jenna has over twenty years of experience managing nonprofit technology systems. Previously, she served as director of Business Information Systems at The Trust for Public Land, working closely with finance and HR teams to lead large-scale projects like selecting and implementing a new finance management system, creating an invoice digitizing and integrated search tool and upgrading HR applications. Prior to this, Jenna held other roles at The Trust for Public Land including senior database administrator and networks and systems support specialist, as well as other technology positions in nonprofits emphasizing women's leadership and micro-enterprise development.
Education: Jenna Booth holds a bachelor's degree from Mills College in Biochemistry with concentrations in Political Science and Anthropology and is in the process of being certified as a Project Management Professional (PMP).