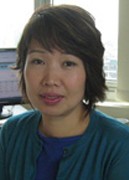 Senior Program Specialist, Governance & Inclusive Growth, Vietnam
Le Thu Hien is senior program specialist for The Asia Foundation in Vietnam responsible for overseeing the Foundation's governance portfolio focusing on economic governance, law and civil society development. She has more than 15 years of project development, management, and monitoring and evaluation experience as well as a strong knowledge of current development issues and policies, the regulatory environment, governance processes and legal reform issues in Vietnam.
Prior to joining The Asia Foundation in 2007, she was National Program Officer for Law and Democratic Governance for the Swedish International Development Agency where she was responsible for managing Swedish support to the legal sector in Vietnam. Swedish support included topics such as rule of law and public participation in law making, access to justice for the poor, capacity strengthening for the Office of the National Assembly, legal education, legal aid and support for the establishment of an independent Bar Federation in Vietnam. Prior to that, Hien served as the Policy Program Officer for USAID-funded Vietnam Competitiveness Initiative, a project that provided technical assistance to improve the business enabling environment in priority areas for government and business leaders.
Education: M.A. in Social Science (1988-1994) from Kazan State University, Russian Federation.