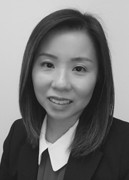 Senior Director, Budget and Contracts, Public Sector Development Services
Mandy Wong leads a team of budget and contract staff responsible for planning, preparing, and reviewing proposal budgets; and negotiating budgets, grants, and contracts with the Foundation's implementing partner organizations and with diverse bilateral and multilateral donor agencies. These include USAID, UK DFID, UK FCO, Australia DFAT, Canada DFTD and Global Affairs Canada, Korean Agency for International Development, Asian Development Bank, the World Bank, and the European Union. Prior to her current position, Mandy was an Associate Director/Agreement Officer providing technical guidance and training support to the Foundation's Country Offices on proposal budgets and grant/contract modification and approval processes. Mandy started at the Foundation as a senior project accountant for Financial Services, where she was responsible for many aspects of financial administration, including financial reporting, revenue reconciliation, and proposal budget review.
Education: Mandy has passed the examination for Certification for Federal Contract Manager (CFCM), with the National Contract Management Association. She completed a master's certificate in Government Contracting from George Washington University, and a bachelor's degree in Finance and International Business from the San Francisco State University.