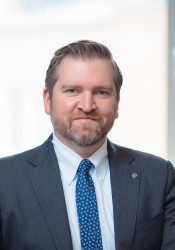 Country Representative, Mongolia
Mark Koenig became The Asia Foundation's country representative in Ulaanbaatar, Mongolia in 2018. In this role, he oversees the Foundation's development programs in Mongolia, focused on strengthening governance, empowering women, addressing environmental challenges, and improving access to information and education.
The Asia Foundation has played a unique role in the country's development since 1990 as the first nonprofit organization to be invited into Mongolia. Today, Koenig leads a dynamic team in Ulaanbaatar working effectively with government, civil society, and the private sector in Mongolia to strengthen democratic governance and build a foundation for long-term economic prosperity.
Koenig brings more than a decade of experience in governance issues across Asia. Most recently, he served as the deputy director and Urban Governance specialist for The Asia Foundation's Program Specialists Group working out of the Foundation's office in Thailand, where he designed urban governance programming in countries including Mongolia, Cambodia, Nepal, and Myanmar.
Koenig has worked at The Asia Foundation in a full-time capacity since 2010, coming from the International Security Sector Advisory Team in Geneva, Switzerland. At the Foundation, he first focused on program design relating to urban governance, community policing, anti-corruption, and improving public policy processes in a range of countries including Nepal, Afghanistan, Timor-Leste, and Mongolia. In 2013, Koenig became the Foundation's assistant director for Program Strategy, Innovation, and Learning, where he played a leading role in the Foundation's country strategic planning process, supported the Foundation's strategic partnership with the Australian government, and implemented programs using innovative adaptive management techniques and political economy strategies to support public policy processes.
Education: Koenig holds a bachelor's degree in Political Science from the Johns Hopkins University and a master's degree with a concentration in Law and Development from the Fletcher School of Law and Diplomacy at Tufts University.