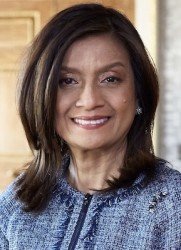 Deputy Country Representative, Philippines
Myn Garcia has an extensive experience in international development and diplomacy in bilateral and multilateral contexts covering 49 countries for over 20 years. As an executive leader, she has successfully led strategic planning, change management, catalytic development programming, delivering operational outcomes, and achieving long-term visions.
She served two terms as Deputy Director General of the Commonwealth Foundation (2012-2019). Myn provided intellectual leadership in developing and implementing the overall strategic architecture for the Commonwealth Foundation, covering two strategic plans (2012-2017 and 2017-2021) and securing a mandate from Commonwealth member states in 2012 to support people's participation in governance across the Commonwealth. She was concurrently the Project Director of the Commonwealth People's Forum, a global gathering of civic voices engaging with Commonwealth Heads of Government, in Sri Lanka (2013), Malta (2015), and London (2018).
Myn led an institutional strengthening governance program in Afghanistan, funded by Global Affairs Canada (GAC), as Director for Development, worked on peace and conflict impact assessment and local governance in Sri Lanka, and was part of the GAC flagship local governance programs in the Philippines: the Local Government Support Programme and the Local Governance Support Programme in the Autonomous Region of Muslim Mindanao where she was the Canadian Field Programme Manager.
Her multidisciplinary specialization includes participatory governance, feminist intersectionality, peacebuilding, and monitoring, evaluation, and learning. Myn is a published author and editor. Her latest, A Review of Mentoring Programmes for Women's Political Advancement and Leadership, was published in September 2021. A selective list of attributed publications includes:
Stronger Civic Voices Across the Commonwealth (2019)
A Manual on Local Planning Process: Formulating the CDP and ELA in ARRM (2010)
Communities that Learn! A Knowledge Management Framework for Local Governance (2006)
Trekking the Good Local Governance Terrain: The LGSP Capacity Development Way (2006) ISBN 978-971-92902-2-3
Myn is committed to diversity, inclusion, performance excellence, and mentoring women, men, and people in all their diversity to flourish and become leaders themselves. She has lived and worked successfully in multicultural settings in Canada and the United Kingdom and in conflict and political transition environments in Afghanistan, Southern Philippines, and Sri Lanka in the last 21 years.
Education: Myn has a master's degree in International Development and Communications from Simon Fraser University and a bachelor's degree from the University of the Philippines.