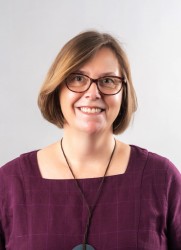 Senior Director, Governance
Dr. Nicola Nixon is The Asia Foundation's senior director of Governance, effective October 2018. With over 20 years of experience in international development and academia, Nicola leads the Foundation's governance programs across the 18 countries and three sub-regions of Asia in which it works. Nicola brings to the Foundation a depth of expertise in governance and the governance dimensions of poverty reduction, social development, and gender and inclusion from having worked with Australian DFAT, UNDP, and a range of INGOs, multilateral and bilateral agencies in diverse environments and across multiple countries, including the UK, Australia, Albania, Bosnia and Herzegovina, Indonesia, and Vietnam.

Nixon is an active member of the Thinking and Working Politically community of practice and is engaged in several dialogues on approaches to adaptive management in aid programming. Her technical governance experience includes leading and overseeing large governance programs and facilities with workstreams in public financial management, bureaucratic reform, public policy development, women's leadership, and decentralization.
Nixon joined The Asia Foundation from Australian DFAT, where she served as the Canberra-based director of DFAT's Law and Justice section. In this capacity, she led the strategic direction of a diverse regional program portfolio that included law and justice, legal reform, anti-corruption, community-driven development, and countering violent extremism, undertaken in collaboration with UN agencies, research thinks tanks, and other partners.
Previously, from 2014 to 2018, Nixon served as DFAT's Jakarta-based counselor for Poverty and Social Development, with responsibility for a program portfolio with an annual turnover of approximately AUD $105 million per year, including large-scale, multi-year programs in governance, gender, poverty reduction, equality, and social development. Nixon also served in other Canberra-based director positions, including heading the Aid Management Practice section and the Fragility and Conflict Policy section, and served as policy manager with DFAT's Capacity Development/Design Advisory Team.
Prior to joining DFAT, Nixon served as UNDP's Senior Social Policy advisor, and later head of Research and Development in Bosnia and Herzegovina.
Nixon's international development career was preceded by a series of academic appointments. These included senior lecturer and acting dean of Humanities at the State University of New York Tirana in Albania, and International Scholar with the Open Society Institute's Higher Education Support Program in Albania. She is a single parent of two wonderful children.
Education: Doctoral degree in History and Social Theory from the University of Melbourne and an Honors Degree in Comparative Sociology and bachelor's degree in Philosophy and Sociology from Monash University. Nicola is a visiting fellow at the College of Asia and the Pacific at the Australian National University.