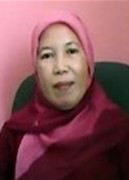 Senior Program Officer, Philippines
Noraida Chio has 25 years of robust experience working in fragile and conflict-affected areas of Mindanao, Philippines as program manager, team leader, on-site coach, facilitator, and resource person in the fields of gender, conflict management and peacebuilding, humanitarian response, water, sanitation & hygiene [WASH], and alternative learning systems.
As an advocate of women's empowerment in the context of Islam, she is within the circle of Bangsamoro women leaders who are mobilizing and strengthening unity, cooperation, and coordination among Muslim women in preventing violent extremism and in advancing peace and development in Mindanao. Currently, she manages The Asia Foundation's CARE for Peace project funded by DFAT's Australian Partnerships for Peace (APP) that supports long-term stability and development in conflict-affected areas of Muslim Mindanao.
Education: Noraida holds a master's degree in Peace and Development Studies. As a scholar of UNESCO-Hamburg (ALADIN), she finished a short-term course on Managing NGO Resource Center at Coady International Institute, Canada. She also completed a special training on Gender, Women's Leadership and Peacebuilding at American University, in Washington, DC.