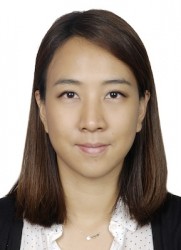 Regional Program Manager, Southeast Asia Regional Cooperation Programs
Pitchanuch Supavanich is regional program manager at The Asia Foundation in Bangkok. She manages Southeast Asia regional programs which focus on security cooperation, cross-sectoral response to trafficking in persons, and development cooperation. These programs are designed to support and promote leadership of Association of Southeast Asian Nations (ASEAN) in addressing common challenges and promoting shared interests.
Before joining The Asia Foundation in March 2020, Pitchanuch was a senior officer at the ASEAN Secretariat in Jakarta, where she supported regional cooperation among 10 ASEAN Member States on labor and civil service. In her early years at the ASEAN Secretariat, she also supported ASEAN cooperation on rights of women and children, gender equality, social welfare, rural development and poverty eradication. She was involved in the development, implementation and monitoring of several ASEAN Declarations, work plans and other key ASEAN documents, such as ASEAN Consensus on the Protection and Promotion of the Rights of Migrant Workers and Regional Framework and Action Plan to Implement ASEAN Declaration on Strengthening Social Protection.
Between 2008 and 2014, Pitchanuch worked for the then Australian Agency for International Development (AusAID) in Thailand where she managed human security programs addressing trafficking in persons, child sex tourism and exploitation of migrant workers in Southeast Asia and Greater Mekong Subregion. She also worked for International Rescue Committee in Thailand and for a joint investigative unit of the Royal Thai Police's Narcotics Suppression Bureau and United States' Drug Enforcement Administration.
Education: Pitchanuch graduated from the Erasmus Mundus Joint European Master Program in International Migration and Social Cohesion and received degrees from the University of Amsterdam, the Netherlands, University of Deusto, Spain, and University of Osnabrück, Germany. She also holds a master's degree in International Relations from Thammasat University, Thailand, and a bachelor's degree in Political Science (International Relations) from Chulalongkorn University, Thailand.