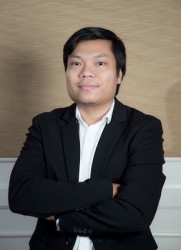 Program Officer, Cambodia
Rathyrea Prak joined The Asia Foundation in Cambodia as a program officer in 2019. Prak works with the Programs team and other colleagues to implement the Australian-funded Ponlok Chomnes: Data and Dialogue for Development in Cambodia program, which aims to strengthen the capacity of Cambodian knowledge sector institutions to undertake quality research that informs public policy analysis and dialogue in Cambodia. His roles are to support the team to deliver day-to-day activities to meet program's objectives, support the program's core partners and research grantees to implement appropriate measures to address their issues, contribute to the promotion of policy dialogue and analysis through the Foundation's Policy Pulse Initiative and discussion forum (at national and provincial level) and contribute to the development of monitoring, evaluation and learning (MEL) plan and frameworks that is used to ensure accountability and make strategic decisions to improve program's performance.
Prior to joining the Foundation, Prak worked for Moulathan Consulting (MLT), a research firm that provides research and consultancy services to Cambodia's government agencies, local and international non-government organizations in the fields of good governance, decentralization & deconcentration and public service delivery.  Prak's experience includes a solid understanding of the research project cycle that includes planning, designing, data collection, management and analysis. Before his work with MLT, Prak was also working in the ICT Sector with both the private sector and the government for a few years, where Prak was involved in troubleshooting computer problems, maintenance of hardware and software systems, graphic design and website management.
Education: Rathyrea Prak holds a master's degree in Public Policy (specializing in good governance, open government and e-government) from Victoria University in Wellington, New Zealand, and received a bachelor's degree in Computer Science and Engineering from the Royal University of Phnom Penh and a bachelor's degree in Education (Teaching English as a Foreign Language) from the Institute of Foreign Languages, Cambodia.