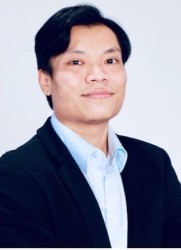 Senior Program Officer, Cambodia
Rathyrea Prak is senior program officer for The Asia Foundation in Cambodia. In this capacity, he supports the Foundation's Governance and Legal Unit in implementing the Australian-funded Ponlok Chomnes: Data and Dialogue for Development in Cambodia program that aims to strengthen the capacity of Cambodian knowledge sector institutions to undertake quality research and inform public policy analysis and dialogue in Cambodia. In addition, he supports governance-related research studies and organizes policy dialogues with relevant stakeholders.
Prior to joining the Foundation, Rathyrea worked for a research firm, conducting various research studies, including child rights governance, public service delivery, protection of marginalized urban women, and others, which aimed to inform public policies and practices in tackling governance-related issues in Cambodia.
Education: Rathyrea Prak holds a master's degree in Public Policy (specializing in good governance) from Victoria University of Wellington, New Zealand, a bachelor's degree in Computer Science and Engineering from the Royal University of Phnom Penh, and a bachelor's degree in Education (Teaching English as a Foreign Language) from the Institute of Foreign Languages, Cambodia.