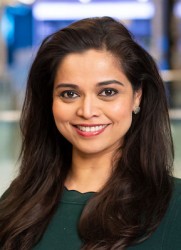 Lotus Advisor
Vice President, Global Head of Diversity, Equity & Inclusion at Zendesk
Smita Pillai is vice president for Global Head of Diversity, Equity & Inclusion at Zendesk. Zendesk builds customer service and engagement products, offering services and support to customers across hundreds of industries, 160+ countries and in 30+ languages. Zendesk is headquartered in San Francisco, and operates worldwide with 18 offices in North America, Europe, Asia, Australia, and South America.
Prior to joining Zendesk, Smita was chief Diversity & Inclusion officer for Dow Jones, including its flagship brands The Wall Street Journal, Barrons, Factiva and Financial News. Before that, she led global diversity and inclusion efforts in Fortune 50 companies such as Prudential Financial and at Johnson & Johnson, where she was responsible for global diversity and inclusion initiatives for the largest business sector of medical devices. In her career, Smita has led groundbreaking global marketing research projects and established clear metrics for D&I measurement and advancement that have advanced D&I across multiple organizations. She has also been a founding board member for several global employee resource groups and is passionate about global diversity & inclusion for talent, business impact and community partnerships. Her holistic approach to diversity and inclusion seeks to create a climate of inclusion and belonging where innovation can thrive.
Smita is a well-recognized global thought leader and has received several awards and recognitions like the Top 100 DEI Leaders of Influence, Leadership Excellence Award Tri-State Diversity and Leadership, NY Moves Mentor, Diversity MBA Top 100 Under 50, Leaders executive profile, COLOR profile, for her outstanding achievements in community, leadership and education. An accomplished public speaker, Smita is a sought-after leader to drive executive level discussions on global diversity, inclusion and impact at various forums like the 2019 Sundance Film Festival, WSJ Women In conference, WSJ CEO Council, Latina Style, HACR, Diversity Council, COLOR Magazine, W.I.N Forum NY, The Conference Board, Working Mother Media, Diversity Best Practices, among others.
Originally from India, Smita considers herself a true global citizen, and has worked across the globe, based out of Mumbai, Dubai, Tokyo, Singapore, Florida and most recently, New York. She loves to spend time with her family, travel, practice yoga and run trails. Smita lives with her husband, their three children and a gentle giant Rottweiler in their historic barn home in Central New Jersey.