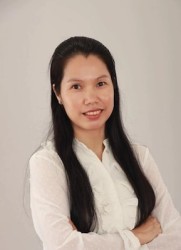 Program Director, Cambodia
Socheata Sann is The Asia Foundation's program director in Cambodia. In this capacity, she oversees a portfolio of programs to empower women and youth, expand economic opportunities, advance regional cooperation and bringing direct day-to-day program support and learning to the program staff while spearheading the development of new programs.
Prior to joining the Foundation, Socheata served in several positions as a road safety program manager and consultant in different international organizations. She has more than fifteen years of experience, managing programs related to road safety and working on disability issues. She engaged with a wide range of activities and initiatives from national policy development to grassroots project implementation, such as research, road safety education, public awareness, community based promotion and publications of guidelines, curricula and journal papers. She has also built her cross cultural experience by working with people and environment in different countries, such as Australia, Belgium, Lao PDR, Vietnam, Myanmar and Benin. Over the past six years, she has completed a number of independent consulting assignments for the Asian Development Bank, Humanity & Inclusion, UNESCAP, Adidas Cambodia and German Development Cooperation, in Cambodia and across the region, particularly ASEAN.
Education: Socheata holds a doctoral degree from Queensland University of Technology, Australia, and a master's degree in Business Administration with a major in Finance from Panasastra University of Cambodia.