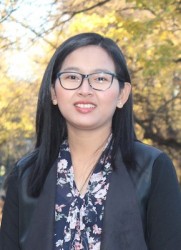 Program Officer, Environment and Gender Program, Cambodia
Sreyphea Chap is a program officer for the Environment and Gender Program. She is now coordinating and is one of the study team members of the Solid Waste Management Scoping Study in Kep project, which aims to collect important data and information for use in policy formation and pilot activities. Working with colleagues and partners, she also provides technical support to another research project on poverty, water, and gender in Cambodia. Focused on the Stung Chinit Watershed in Kampong Thom, the project seeks to explore how sustainable water management can happen in tandem with efforts to achieve social equality, economic growth, and poverty reduction.
Prior to pursuing her master's degree in Australia in 2016, Sreyphea was with the Learning Institute between 2012 and 2015, coordinating the Research Interest Group on Natural Resource Governance and technically supporting a research team to conduct studies related to fisheries communities and rights-based fisheries, community-based honey enterprises, livelihoods, food security, and disasters. From 2011 to 2012, she was a team leader with CES Co. Ltd., working on environmental and social impact assessments on economic land concessions for agroindustry and resort development projects. Before receiving her bachelor's degree in 2011, she had various work-related experience, including an internship with the Asian Disaster Preparedness Center, and an enumerator on a few research projects related to climate change and biomass energy consumption of rural Cambodian people.
Education: Sreyphea Chap holds a master's degree in Environment, specializing in Climate Change, from the University of Melbourne in Australia and a bachelor's degree in Environmental Science from the Royal University of Phnom Penh in Cambodia.