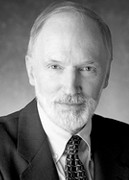 President of The Asia Foundation, 1989-2004
Member of the President's Leadership Council of The Asia Foundation
William P. Fuller served as president and CEO of The Asia Foundation from 1989 until 2004 and is currently President Emeritus. From 2004 to 2008 he was vice chairman and senior adviser of ChinaVest, a merchant bank with offices in Shanghai, Beijing and San Francisco.
Fuller was deputy assistant administrator of the U.S. Agency for International Development (USAID) in Washington, DC from 1987 to 1989, responsible for foreign aid to 16 countries in the Near East and Europe. He joined USAID in 1981 as director of the USAID mission in Indonesia and lived in Jakarta for nearly six years.
From 1971 to 1981, Bill served with the Ford Foundation in Asia, first as an advisor to the National Education Commission and Ministry of Education in Thailand, and later as head of the Foundation's office in Bangladesh which supported programs to develop micro-finance, agriculture, and health. In earlier years, he worked with the World Bank in Paris, and with UNICEF in Beirut, Cairo, and New York.
During his career, Bill has served in leadership roles in business and community organizations. He is currently on the boards of Array Networks, Inc. in Milpitas, California and the Bank of the Orient in San Francisco. He has been a member of the Advisory Council of the Asian Development Bank Institute in Tokyo, the Advisory Council for the Goldman Fund, and was until 2007 chair of the Board of Directors of the Institute for the Future in Palo Alto. He has served on the board of Winrock International, a global organization that provides technical assistance to agriculture, forestry and environmental/clean tech projects, and was Board Chair. He is currently Vice Chair of the board of Give2Asia, a Vice Chair of the Japan Society of Northern California, and a board member of the China Foundation for Education and Culture in Taiwan. He is also a member of the Council on Foreign Relations, the President's Council of the United Religions Initiative, and the Asia Society's Northern California Center's Advisory Board.
Fuller's contributions to international development efforts have been recognized by a number of awards and honors. He is a two-time recipient of the United States President's Meritorious Service Award and USAID's Distinguished Honor Prize. He received Korea's Hueng-in Jang Medal for Diplomatic Service from Korea's president in 1997, the Asia Pacific Leadership Award from the Center for the Pacific Rim, University of San Francisco in 2002, an honorary Doctor of Laws degree from Dominican University in 2002, the annual Citizens Award from the World Affairs Council in 2004 for work in international development and philanthropy, and Mongolia's highest civilian award, the Medal of Friendship, presented by Mongolia's president in 2004.
Education: Bill holds bachelor's, master's, and doctoral degrees from Stanford University and a master's in Business Administration from Harvard University.