Philippine Courts Go Paperless
February 19, 2020
A few thin piles of papers are neatly arranged on Alma Puncia's desk. She picks up one of the documents, flips through its pages, and observes, "This is all I need for my quarterly report on criminal cases in the entire judiciary."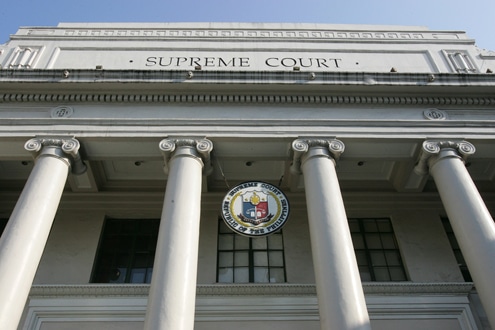 As the assistant head of the Court Management Office of the Philippine Supreme Court, Ms. Puncia manages judicial administration and record keeping for more than 2,600 courts scattered across the 2,000 inhabited islands of the Philippine archipelago. She used to spend weeks hand-coding and tabulating the paper reports that arrived from the courts by mail, but these days, all it takes is the click of a button, thanks to the Continuous Trial Monitoring System (CTMS).
The CTMS is software that monitors compliance with the court's Continuous Trial system, a new set of rules to streamline procedures and expedite criminal cases, including strict timetables for trial courts. A pilot project developed in collaboration with The Asia Foundation, CTMS captures information on the nature of each case; the identity, age, sex, and birthdate of the accused; and the case history, including dates for each stage of the proceedings.
In the CTMS pilot's first round of reporting, in 2017, a good 85 percent of the nation's trial courts used the new system to submit reports on criminal cases to the Supreme Court. This high participation rate allowed policymakers to closely track the implementation of the Continuous Trial system. The Court Management Office, which codeveloped the system, was able to flag nonperforming courts, identify bottlenecks in criminal proceedings, and respond to emerging issues using the extensive data from CTMS. Policies on plea bargains in drug cases, family court proceedings, and local misdemeanors have all benefitted.
"By all indications, the CTMS is a success," says Ms. Puncia. "Courts are using it, and so administrators in the Supreme Court are able to see up-to-date information."
The scope of the CTMS is limited to criminal cases for now. It does not yet cover civil or commercial cases. The project is part of a broader push by the Supreme Court to use electronic information systems to bridge long distances, streamline court bureaucracies, and reduce the paper-based transactions that have defined judicial administration in the country since the 1930s. More than a decade ago, in 2009, the Supreme Court adopted its Enterprise Information Systems Plan to establish a judiciary-wide IT framework. The plan laid out a vision of a modern judiciary that identified essential IT infrastructure projects and more than 20 software applications to address enduring problems in the courts: delay, congestion, red tape, complicated procedures, and perennial vacancies.
The Supreme Court has since pursued a variety of IT programs, with varying degrees of success. After a decade, the judiciary now enjoys a main data center with back-up facilities, internet connectivity at major court locations, and electronic case-management systems in specialized courts. But important court functions still have inadequate IT support. Most of the court's business processes—from fiscal management, to staffing, to procurement—are still paper based. Local information systems are not interconnected or interoperable, and decision-makers continue to rely on reports that travel slowly and often contain outdated information.
The Supreme Court has recently called for a reassessment of its IT projects. As the review proceeds, the CTMS, although it is small in scale and automates just a fraction of the judiciary's business processes, offers some valuable insights into what makes an IT initiative successful.
Organic development. The CTMS was developed by the Supreme Court's own IT staff with support from The Asia Foundation. No third-party contractors were involved. Financial and technical assistance went directly to the Management Information Systems Office (MISO), the judiciary's IT agency, where developers drew on their own institutional knowledge of trial-court issues. This same staff has continued to provide support—analyzing data, fixing bugs, and developing new functionalities—and MISO's institutional capabilities have grown as it gradually expands the CTMS.
Usability. Comprehensive IT overhauls often meet resistance from their intended users. The CTMS was developed with usability in mind. The dashboard is simple and intuitive. Users are required to enter only the most important data from criminal cases. Drop-down menus for data entry minimize human error and the effort needed to complete the reports. The system is flexible, and can deliver reports in Excel, database, or pdf formats. The system's simplicity has made training straightforward, even for digital novices.
Unburdening. At the time of the roll-out, trial courts already had significant reporting requirements, and the CTMS was introduced with special care not to add to staff workloads. Because the CTMS captures data for all types of criminal cases, it can generate customized reports for different purposes on demand, and the Supreme Court identified and removed 18 reporting requirements that the CTMS had made obsolete. Easing the burden on court staff ensured that they didn't view the CTMS as a just another burdensome "logbook," and the efficiency and convenience nudged them to accept the system as a better way to satisfy the Court Management Office's reporting requirements.
Strict monitoring. Under the Continuous Trial reporting system, the Court Management Office must monitor, remind, and in exceptional cases reprimand courts. The Supreme Court had previously relied on hand-written reports transmitted by mail, a cumbersome process that frustrated strict monitoring. The CTMS gathers real-time information on trial-court performance and quickly identifies courts that are out of compliance.
Minimal system requirements. In the Philippines, IT infrastructure, internet access, mobile network coverage, and financial and human resources vary widely from one court jurisdiction to another. As standalone software that can work offline with all but the most antiquated operating systems, the CTMS sidestepped most of these problems. The Asia Foundation distributed the system and its accompanying installation manual on thumb drives. Courts without internet access could send their reports to the Court Management Office as email attachments.
Asked if the CTMS has made her life easier, Ms. Puncia gave an unequivocal yes. While state-of-the-art systems may offer greater capabilities, their state-of-the-art technical requirements exceed what many Philippine trial courts, and court personnel, can satisfy. The roll-out of the CTMS shows how simple first steps that acknowledge user needs and existing technical limitations can achieve success where "big-bang" approaches to comprehensive modernization sometimes falter.
Paco Camacho is senior program officer for law and human rights in The Asia Foundation's Philippines office. He can be reached at [email protected]. The views and opinions expressed here are those of the author, not those of The Asia Foundation.
About our blog, InAsia
InAsia
is a bi-weekly in-depth, in-country resource for readers who want to stay abreast of significant events and issues shaping Asia's development, hosted by
The Asia Foundation
. Drawing on the first-hand insight of renowned experts,
InAsia
delivers concentrated analysis on issues affecting each region of Asia, as well as Foundation-produced reports and polls.
InAsia
is posted and distributed every other Wednesday evening, Pacific Time. If you have any questions, please send an email to
[email protected]
.
Contact
For questions about
InAsia
, or for our cross-post and re-use policy, please send an email to
[email protected]
.
The Asia Foundation
465 California St., 9th Floor
San Francisco, CA 94104
Mailing Address:
PO Box 193223
San Francisco, CA 94119-3223
Support Women Forest Defenders
Join us this holiday season to help untapped leaders like Sumini and the Women Forest Defenders battle rampant deforestation in Indonesia.