Let's Read Without Limits: Building a Reading Movement in Timor-Leste
Program Year: 2020
More than any other point in history, technology is a promising tool with the potential to accelerate development in countries around the world. If attention is not paid to offline communities, technology also has the potential to widen the development gap creating an even more dangerous learning and development divide. With a telecom partnership, book printing program, and collaboration with the Ministry of Education, The Asia Foundation in Timor-Leste is demonstrating the ways a digital library can bring The Book Effect to all children, including those with and beyond Wi-Fi signals.
Today, with more than 2.3 billion internet users, Asia is home to half of the world's connected population, opening digital doors that have the potential to accelerate the region's development. At the same time, technology has the potential to intensify the development gaps between connected and offline communities across the continent. Children across the region are intimately connected to the growing learning gap created by disproportionate internet access.
In Timor-Leste, where only 31% of people have access to the internet, The Asia Foundation is meeting families where they are with an inclusive reading movement that narrows the development gap that separates connected and offline children in addition to developing content relevant to local communities and accessible through local partnerships.
Let's Read, the Foundation's community and technology driven solution to book scarcity, is stepping up to the demands of the times and building the reading habits of millions of children in communities across Asia. But what happens to a digital reading movement when the majority of people have limited internet access?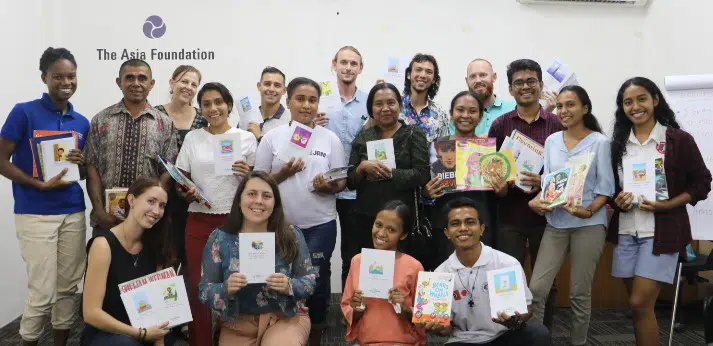 The Asia Foundation in Timor-Leste has developed a holistic offline and online solution to ensure the thousands of books in the Let's Read library reach even the most remote communities of the island nation in the Pacific.
The Foundation is working with Timor Telecom—the nation's largest cellular provider to address to challenge of expensive data packages. Thanks to their commitment to the development of Timor-Leste, Timor Telecom has made it possible for all of their customers to access the Let's Read digital library on their cell phones free of charge without using any of their valuable cell phone data. This means that tens of thousands of children will now have completely free access to a collection of books in Tetun translated in collaboration with local university students, Peace Corps volunteers and the Ministry of Education program.
Recognizing that some users in Timor-Leste schools and rural areas prefer printed formats, The Asia Foundation has collaborated with the Ministry of Education to translate and print free children's books in Tetun. Additionally, The Asia Foundation leveraged its Nabilan program women's shelter partners to provide printed children's books on COVID-19 education to communities.
Through a special Global Partnership for Education grant awarded to the Ministry of Education for emergency COVID response, the Ministry is also printing a collection of books that introduce children to COVID-19, hygiene, STEM, environmental conservation, gender, and problem solving. This collection of printed books will be distributed to rural communities to help them recuperate learning lost during the COVID-19 pandemic.
To develop a love of reading, children need stories that reflect the characters, themes, and settings of their lives. Ministry representatives confirm that books with local themes and stories are highly sought after and stories with positive messages are needed. So, the Foundation is now working with local writers, youth and illustrators to create stories written and illustrated by local Timorese writers!
As The Asia Foundation in Timor-Leste implements these holistic solutions to building a more accessible, engaging and inclusive reading movement, the development gap narrows between offline and connected children.
2023 Leaders on the Frontlines
Join us in San Francisco on October 12, 2023, to honor Niwat Roykaew.