Bangladesh: Toward Better Governance in the Ready-Made-Garment Sector
June 9, 2021
Since the 2013 collapse of the Rana Plaza building in Dhaka—which killed 1,134 people, large numbers of them garment workers—Bangladesh's ready-made garment (RMG) sector has taken significant steps to improve worker safety, adopting the Accord on Fire and Building Safety in Bangladesh, creating the five-year Alliance for Bangladesh Worker Safety, and establishing the LEED Certified Green Factories program to recognize "leadership in energy and environmental design."
But the progress since 2013 must not be lost. There are still challenges in health, safety, and security conditions in the country's massive and economically essential RMG sector. Workers in general still have little awareness of their legal rights—one report found that a majority of factories still do not provide written contracts or letters of appointment, identity cards, or employee handbooks, for example—and many are too desperate to earn a living to risk complaining.
Despite Bangladesh's formal adoption of the World Bank's good governance model, the advent of Covid-19 is revealing the challenge of maintaining good corporate governance in a sector that has long relied on the nation's abundance of unskilled workers to remain globally competitive. Hundreds of thousands of RMG workers have been laid off due to Covid lockdowns, order cancellations, and factory shutdowns, once again shining a light on issues like wages and working conditions.
The RMG industry is Bangladesh's second largest in export revenues, yet workers are often underpaid, especially for overtime. In research conducted by the Centre for Policy Dialogue, employers highlighted significant improvements in workers' wages and compensation in Bangladesh: workers are now paid on time, wages include the legally mandated rate for overtime, and workers in general are more empowered. But not all workers are benefitting from these improvements: 30% of workers surveyed said workplace demands on employees have increased significantly during the pandemic, with no payment for overtime.
Although the nation's constitution prohibits discrimination against any citizen on the grounds of religion, race, caste, sex, or place of birth, studies have found that RMG workers, especially women, do face discrimination in how they are compensated, promoted, and trained. A 2014 study by the International Growth Centre found that 80% of sewing machine operators were women, but just 5% of supervisors. In addition to their underrepresentation in higher-paid managerial roles, women are often paid less than men and are more likely than men to earn less than the minimum wage in every job grade (figure 1).
Figure 1: Percentage of male and female RMG workers earning less than the minimum wage, by job grade. (Source: International Labour Organization)

Some issues still have not been addressed. Many employers, for example, say their factories have functioning systems to ensure workplace safety, but a recent study found that only 68% of workers believe their workplace is adequately equipped to handle an emergency. The Labour Act of 2006 establishes standards for maternity leave for women factory workers, yet 66% of women workers in a recent study reported that they continued to work during the statutory leave period of their pregnancy. The study reflected similar scenarios for sick leave, with 24% reporting that it had been denied, and some interviewed workers reported that they were not allowed lunch or bathroom breaks. Although this has begun to change, all stakeholders in the RMG industry must continue to support changes to corporate governance to protect workers in one of the country's main industries.
An underlying issue is that RMG workers lack a collective voice or any mechanism for dialogue between workers and their employers, and therefore are unable to effectively express their concerns or make demands.
While none of these issues are new, the government of Bangladesh and other RMG stakeholders are beginning to work on solutions in earnest. The Ministry for Economic Cooperation and Development has joined hands with the German development agency GIZ on projects like PSES (Promotion of Social and Environmental Standards in the Industry). The HER Project, from sustainable-business organization BSR, is working on women's health, financial inclusion, and gender equality. The International Labour Organization's BetterWork initiative is focusing on working conditions in the RMG sector, and its SDIR project is working to improve social dialogue and industrial relations. The Asia Foundation has several projects promoting workers' rights and voice.
For many years, cheap labor has been one of the pillars of international competitiveness for the garment industry. But research shows that this reliance on cheap labor has made workers in the Bangladeshi garment industry among the least productive in Asia (figure 2). The term itself, "cheap labor," suggests a lack of skills and education. As a result, the RMG industry is now struggling with the low productivity of its labor force, which is increasingly unsuited to more technologically advanced manufacturing.
Figure 2. (Source: APO Productivity Databook 2019)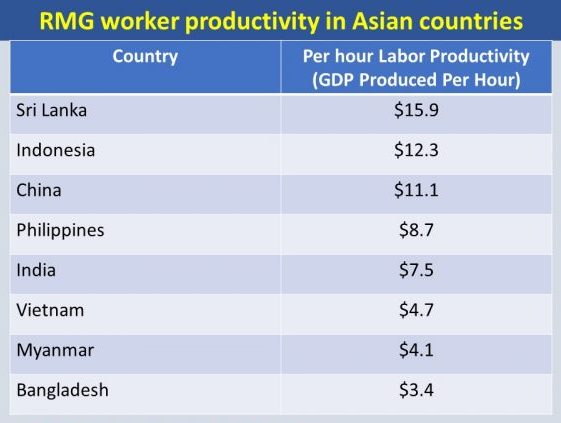 Ultimately, this is a losing strategy that will continue to immiserate workers and weaken the RMG sector in Bangladesh. Without improvements, our hopes for a full post-Covid recovery will dim. It is the workers who must take the RMG industry to the next level. If the industry cannot offer them a better life, better working conditions, and overall better governance, the RMG sector, and we as a nation, will no longer be able to compete.
Mostafa Ferdous Hassan is a consultant in research and knowledge management for The Asia Foundation in Bangladesh. He can be reached at [email protected]. The views and opinions expressed here are those of the author, not those of The Asia Foundation.
About our blog, InAsia
InAsia
is a bi-weekly in-depth, in-country resource for readers who want to stay abreast of significant events and issues shaping Asia's development, hosted by
The Asia Foundation
. Drawing on the first-hand insight of renowned experts,
InAsia
delivers concentrated analysis on issues affecting each region of Asia, as well as Foundation-produced reports and polls.
InAsia
is posted and distributed every other Wednesday evening, Pacific Time. If you have any questions, please send an email to
[email protected]
.
Contact
For questions about
InAsia
, or for our cross-post and re-use policy, please send an email to
[email protected]
.
The Asia Foundation
465 California St., 9th Floor
San Francisco, CA 94104
Mailing Address:
PO Box 193223
San Francisco, CA 94119-3223
Change Starts Here Campaign Impact
Thank you for powering The Asia Foundation's mission to improve lives and expand opportunities.