911 National Emergency Hotline to Assist VAWC and GBV Survivors in The Philippines
December 8, 2021 — Victim-survivors of Violence Against Women and Children (VAWC) and Gender-Based Violence (GBV) can now access emergency response and psychological support using the enhanced 911 National Emergency Hotline.
Local statistics show that incidences of sexual and gender-based violence and crimes against women and children were exacerbated during the Covid-19 pandemic. In the early months of 2020, alarmingly, an average of eight people a day was sexually assaulted, and online searches related to physical violence rose by 63% during the enhanced community quarantine, according to a comprehensive UN Women report.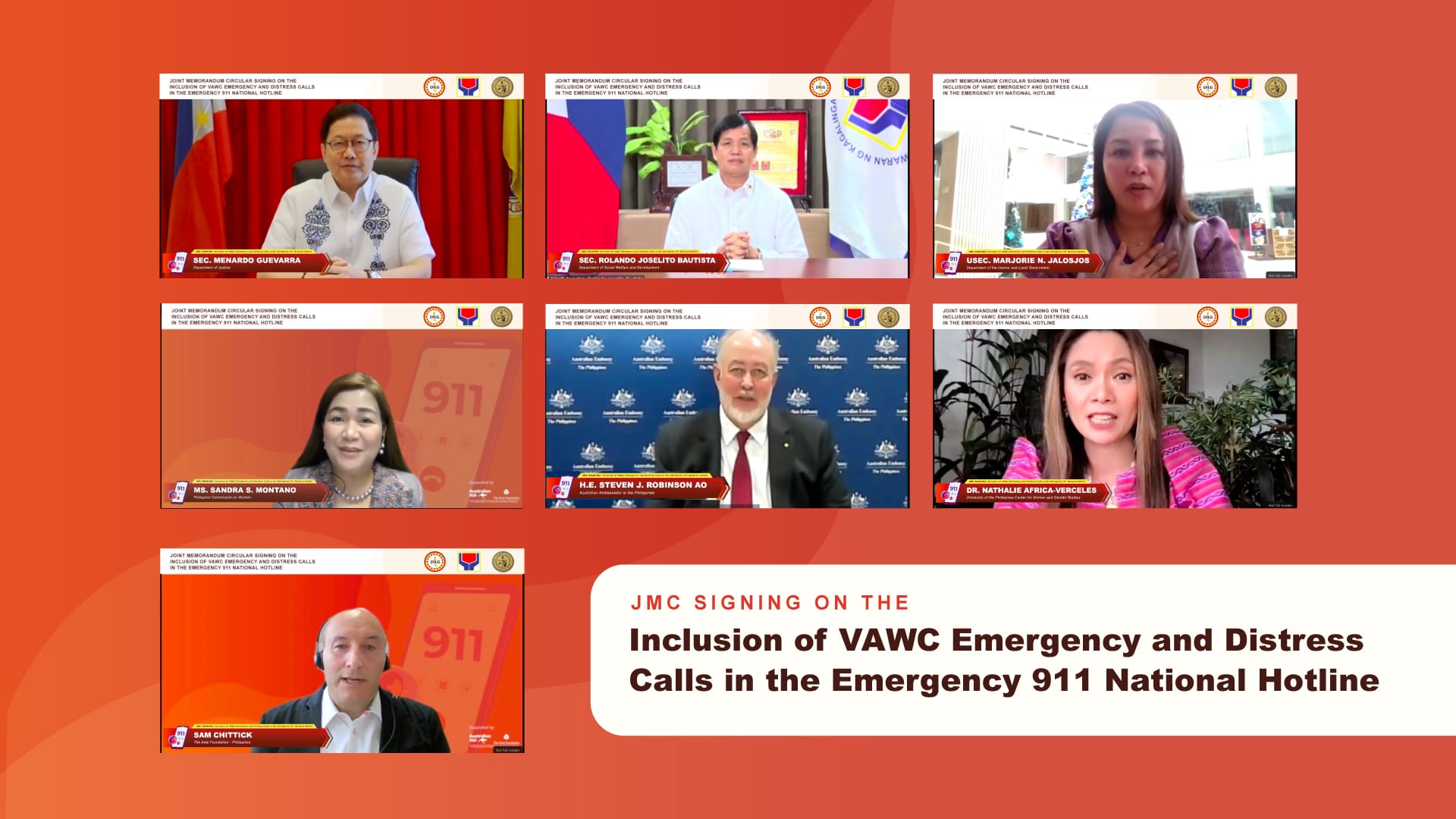 Responding to this emerging concern, the Philippines' Department of Interior and Local Government (DILG) Emergency 911 National Office worked with the Coalitions for Change program of The Asia Foundation and Australian Embassy in the Philippines, and local partners on gender and women's rights, to enhance the 911 hotline service, emphasizing accessible VAWC response and survivor-centered care.
This milestone policy was formalized in a Joint Memorandum Circular signed by the Philippine government's DILG Secretary Eduardo Año, Department of Justice (DOJ) Secretary Menardo Guevarra, and Department of Social Welfare and Development (DSWD) Secretary Rolando Joselito Bautista. DILG Undersecretary Marjorie Jalosjos attended the event on Secretary Año's behalf.
Australian Ambassador to the Philippines Steven Robinson AO, The Asia Foundation Philippines Country Representative Sam Chittick, the Philippine Commission on Women Chairperson Sandra Montano, and University of the Philippines Center for Women and Gender Studies Director Dr. Nathalie Africa-Verceles took part in the event. The policy signing drew over one hundred participants from the government, women's rights advocates, and other civil society groups and 2,000 views via its livestream.
Prior to this initiative, the hotline offered standard emergency police or medical response, but the policy signals the institutionalization of a nationwide, accessible, and toll-free hotline that will also respond to VAWC and GBV calls.
Understanding that victim-survivors require special assistance and support, the 911 hotline telecommunicators will also be trained as first responders, giving psychological first aid. The policy also expands the referral pathways for the calls received. Aside from police or medical services, referrals may also include emergency shelter and protection, psychosocial counseling, and legal assistance and representation.
Ambassador Robinson lauded the initiative. "Australia is committed to working with our partners in the Philippines in keeping women and children safe from violence and abuse. We are pleased to support DILG, DOJ, and DSWD, and the Emergency 911 National Office in this important and life-saving work."
Sam Chittick sees the policy as a concrete and sustainable step forward in reducing violence against women. "The enhanced 911 hotline offers victim-survivors – often limited in their capacity to report – as well as concerned individuals an accessible, free, responsive, and safe space to report abuse", said Chittick. The Asia Foundation shall continue to work with duty bearers and advocates to improve women's and children's welfare in the country.
The Asia Foundation is a nonprofit international development organization committed to improving lives across a dynamic and developing Asia. Informed by six decades of experience and deep local expertise, our work across the region addresses five overarching goals—strengthen governance, empower women, expand economic opportunity, increase environmental resilience, and promote international cooperation.
Read more about the Foundation's work.
For media inquiries, please visit our News Room. Engage with us on Facebook, Twitter, LinkedIn, and Instagram.
Support Women Forest Defenders
Join us this holiday season to help untapped leaders like Sumini and the Women Forest Defenders battle rampant deforestation in Indonesia.