Strengthening Women's Voices in Cambodia's Research Community
March 16, 2022
With its aspirations to become a middle-income country by 2030 and a high-income country by 2050, Cambodia has an outsized need for up-to-date research data to anchor effective policymaking and spur development. But the nascent research culture in this nation of 16 million is still at an early stage compared to its neighbors. The research community in Cambodia is small, it lacks platforms on which to share who is doing what, and mentorship and peer support are hard to find, as are resources and support of all kinds. In this essay, we examine these four key challenges faced by women researchers in Cambodia today, and we introduce The Asia Foundation's SheThinks Network, a project to support women researchers.
The research community in Cambodia is small and gender imbalanced. Observers have estimated that there were just 17 researchers per one million people in Cambodia in 2000–2010 and just 30 think tanks and research institutes, many inadequately funded and unable to perform at the highest level. A 2017 survey by the UNESCO Institute of Statistics found that women comprised just 30 percent of Cambodian researchers, with an even smaller proportion in leadership positions.
Lack of platforms and opportunities for visibility
Although some platforms are emerging where researchers can showcase their work—including workshops, conferences, formal networks, and publications—there are still too few. Local seminars and conferences, essential for the exchange of ideas and career opportunities, are scarce, and there is a shortage of Cambodian academic journals. Limited opportunities for collaboration and exchange can often result in unproductive duplication of effort. Formal institutional networks, which depend on a collaborative environment to thrive, are fragile, and just two are currently active: the Cambodia Education Forum and the Cambodian Scholars Network.
Lack of resources
Research in Cambodia is financially and institutionally undersupported. Even well-established research institutes have inadequate funding, and these funds have been dwindling every year. Cambodia has no system of research bonuses to attract researchers and encourage publication, and the career opportunities for researchers are extremely limited. Research institutions that cannot provide career opportunities cannot attract the best talent or produce the best research.
Lack of mentors
Support from mentors and colleagues is crucial to the successful launch of a research career. Mentors and colleagues provide role models and an environment of shared inquiry that help young researchers enter new territory and realize their unique potential.
The importance of networks
Networking opens doors to like-minded people and new ideas. Women's research networks allow them to discuss their research projects, their career goals, and their work-life challenges in a supportive environment. But networks of women have another dimension: they provide a safe space to discuss issues of career and gender. They also allow them to meet successful senior women and find mentors to guide them to new ideas and opportunities.
SheThinks
The SheThinks Network, part of The Asia Foundation's Ponlok Chomnes: Data and Dialogue for Development in Cambodia program, is a women's research network dedicated to building Cambodia's research community by tackling the gender disparities that disadvantage women. SheThinks was conceived in February 2021 by 20 women researchers who came together to talk about the challenges facing women researchers and how to overcome them.
Benghong Siela Bossba, a young research assistant at the Cambodia Development Resource Institute who got involved in the program, describes what SheThinks has meant for her: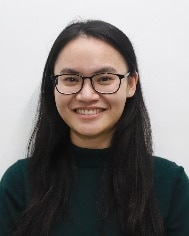 As a junior researcher, I am still working to define my career path. The SheThinks Network has broadened my insight into my profession as a researcher. It exposes me to other members of the network who have different educational backgrounds and expertise. Listening to their experiences has expanded my understanding of my career and postgraduate education choices. I have also learned a lot from their personal journeys to their chosen careers despite the pressures of traditional gender roles.
In addition to career advice and support, SheThinks provides information about scholarships, workshops, and training. Originally conceived as an informal network, SheThinks convenes on Telegram, a mobile messaging app that is popular in Cambodia. The SheThinks Telegram group hosts meetings every three months for like-minded peers to share their challenges, opportunities, and aspirations.
SheThinks has also been rolling out some new features, including a speaker series that features both men and women with inspiring insights for young researchers, a menu of short training courses, and a blog and podcast series in which members share their frustrations as women researchers, and their stories of inspiration and success.
SheThinks Network is made possible through the generous support of Australia's Department of Foreign Affairs and Trade (DFAT).
Sry Bopharath is a program officer for The Asia Foundation in Cambodia. She can be reached at [email protected]. The views and opinions expressed here are those of the author, not those of The Asia Foundation.
About our blog, InAsia
InAsia
is a bi-weekly in-depth, in-country resource for readers who want to stay abreast of significant events and issues shaping Asia's development, hosted by
The Asia Foundation
. Drawing on the first-hand insight of renowned experts,
InAsia
delivers concentrated analysis on issues affecting each region of Asia, as well as Foundation-produced reports and polls.
InAsia
is posted and distributed every other Wednesday evening, Pacific Time. If you have any questions, please send an email to
[email protected]
.
Contact
For questions about
InAsia
, or for our cross-post and re-use policy, please send an email to
[email protected]
.
The Asia Foundation
465 California St., 9th Floor
San Francisco, CA 94104
2023 Leaders on the Frontlines
Join us in San Francisco on October 12, 2023, to honor Niwat Roykaew.