Nothing Is Impossible: Reflections on America's Astonishing Reconciliation with Vietnam
August 17, 2022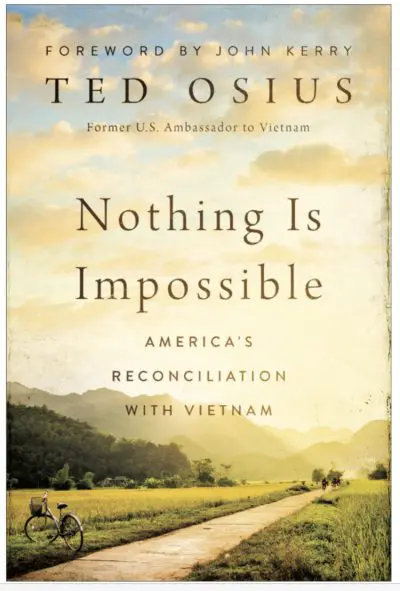 In his recent book, Nothing Is Impossible: America's Reconciliation with Vietnam, former U.S. ambassador and Asia Foundation trustee Ted Osius chronicles the improbable journey of Vietnam and the United States from implacable foes to friends and partners, a 25-year diplomatic drama in which he was both an astute observer and a principal actor.
Ambassador Osius's 30-year diplomatic career included postings to Vietnam, Indonesia, India, Korea, Thailand, the Philippines, and the United Nations, and from 2014 to 2017 he was U.S. Ambassador to Vietnam, where he led a team of 900 working to strengthen economic, security, and cultural ties between the two countries. He is now president and CEO of the United States–ASEAN Business Council.
In this searching conversation with InAsia, he reflects on some of the memorable people and events that helped transform relations between the United States and Vietnam.
Listen to an unabridged version of our conversation with former ambassador Ted Osius and expands further on his views of U.S.-Vietnam friendship, the founding of an American-style university in Hanoi, and his regret at the demise of the Trans-Pacific Partnership, and he reflects on his experience—in conservative Vietnam and an equally conservative State Department—as the father of two in a same-sex, interracial marriage.
About our blog, InAsia
InAsia
is a bi-weekly in-depth, in-country resource for readers who want to stay abreast of significant events and issues shaping Asia's development, hosted by
The Asia Foundation
. Drawing on the first-hand insight of renowned experts,
InAsia
delivers concentrated analysis on issues affecting each region of Asia, as well as Foundation-produced reports and polls.
InAsia
is posted and distributed every other Wednesday evening, Pacific Time. If you have any questions, please send an email to
[email protected]
.
Contact
For questions about
InAsia
, or for our cross-post and re-use policy, please send an email to
[email protected]
.
The Asia Foundation
465 California St., 9th Floor
San Francisco, CA 94104
2023 Leaders on the Frontlines
Join us in San Francisco on October 12, 2023, to honor Niwat Roykaew.