Applications Open for 2024 Asia Foundation Development Fellows
San Francisco, July 9, 2023 — Applications are now open for the 2024 Asia Foundation Development Fellows: Emerging Leadership for Asia's Future Program.
The Asia Foundation is searching for its ninth cohort of highly talented Development Fellows. Applications will be open through August 28, 2023.
Launched in 2014, The Asia Foundation Development Fellows program brings together a group of young emerging leaders from across the region who are deeply committed to building an inclusive Asia-Pacific region and securing lasting change on the ground.
This yearlong career advancement program takes on a multifaceted approach to leadership development which includes two intensive in-person modules, one in Asia-Pacific and a second in the United States, as well as year-round support through mentorship, coaching, and a flexible grant. The in-person coursework explores fellows' leadership styles, helps fellows effectively articulate their stories, and develops their problem-solving and critical thinking approaches.
The 2024 program will commence in February with a two-week Leadership Training Program and study tour in Cambodia, where fellows dive into authentic leadership and meet with development practitioners to understand the mechanics of change on the ground. A flexible professional development award of US $5,000 will be provided to each fellow for use throughout the Fellowship year. Additionally, fellows are matched with mentors tailored to their background and professional interests and have access to a fixed number of one-on-one executive coaching sessions with a professional leadership coach. The program will conclude with visits to San Francisco and Washington, D.C., for a two-week Leadership Dialogue and Exchange program, visiting innovative organizations while continuing to examine their authentic leadership journey.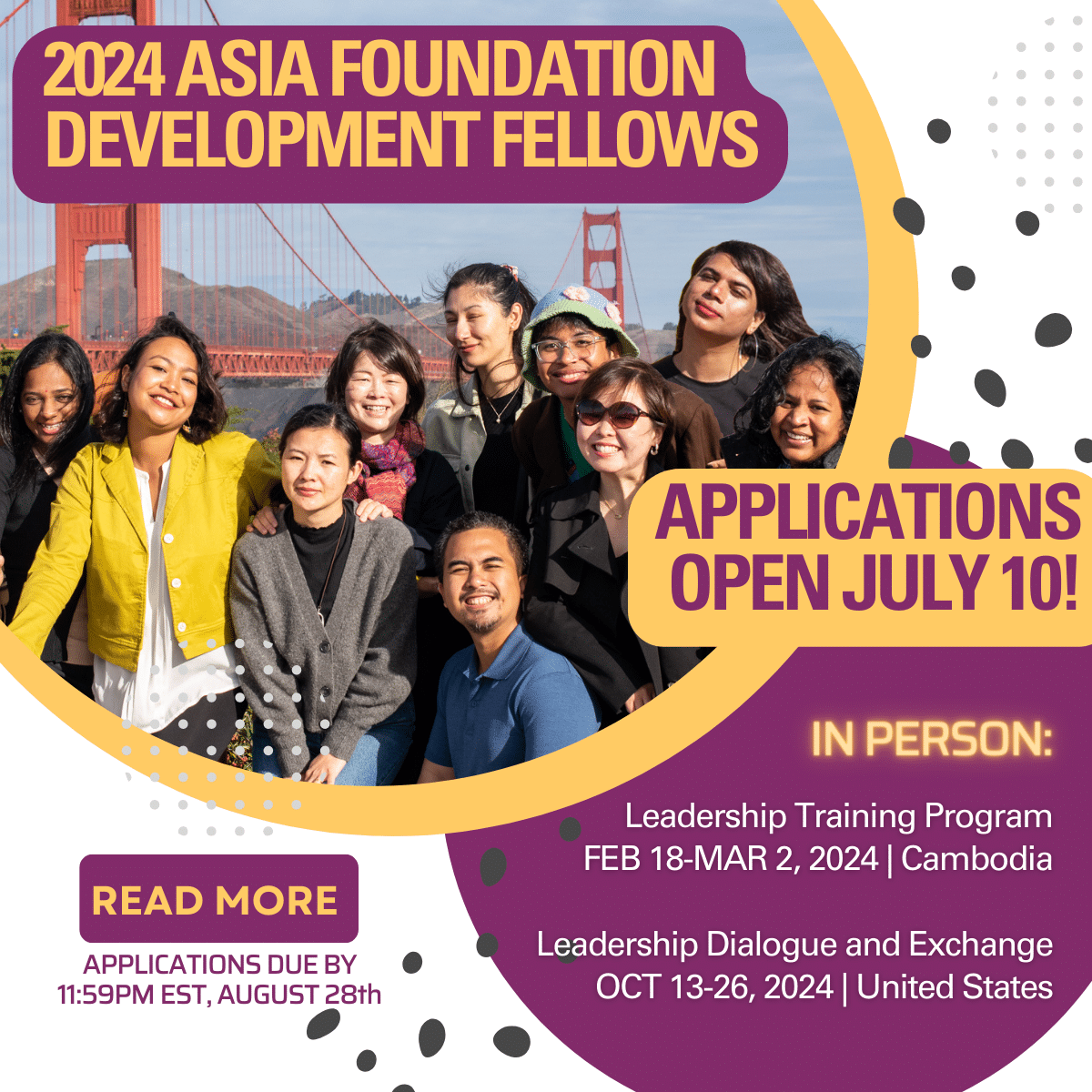 Visit the Asia Foundation Development Fellows application page for more information and share this opportunity on Facebook, Twitter, and LinkedIn.
The Asia Foundation is a nonprofit international development organization committed to improving lives and expanding opportunities across Asia and the Pacific. Informed by decades of experience and deep local expertise, our work across the region is focused on good governance, women's empowerment and gender equality, inclusive economic growth, environment and climate action, and regional and international relations.
Read more about the Foundation's work.
For media inquiries, please visit our News Room. Engage us with #AsiaDevFellows on Facebook, Twitter, LinkedIn, and Instagram.
Read our latest news, or insights from our blog.
Media contact
Eelynn Sim, Director, Media & Strategy
[email protected]
415-743-3318
The Asia Foundation Supports Leaders for a Better World