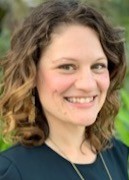 Monitoring, Evaluation, Research, and Learning Director, Nepal
Carolyn O'Donnell brings more than 13 years of experience in monitoring and evaluation (M&E), learning, and knowledge management to her position with The Asia Foundation as director for monitoring, evaluation, research, and learning (MERL) in Nepal. Carolyn provides strategic leadership in designing innovative M&E systems, implementing comprehensive M&E, research, and learning plans, and facilitating evidence-based learning to improve adaptive management and decision-making processes. She oversees Nepal's MERL team, and provides on-the-job training and mentoring to MERL specialists to build their skills in data quality, analysis, and use; research, monitoring, and evaluation design.
Before joining the Foundation, Carolyn worked as a Monitoring, Evaluation, and Learning fellow through the Expanding Monitoring and Evaluation Capacity Project for USAID. As a fellow, she spent four years in the USAID/Nepal Mission, supporting the Democracy and Governance Office, the Social, Environmental, and Economic Development Office, and the program office to strengthen MEL systems and processes. Prior to that, she worked with Winrock International as an M&E Advisor. She started her career in M&E in 2008 at the Centre for Development and Population Activities, working on female empowerment and reproductive health.
Education: Carolyn O'Donnell holds a master's degree in International Development from American University and a bachelor's degree in French and Political Science from Grinnell College. She has worked in 14 countries in Sub-Saharan Africa and Asia. She speaks English, French, and Nepali.