Eyeing Post-Covid Recovery, Malaysia's Small Businesses Go Digital
June 23, 2021
Saferizal lives in Sarawak, the largest of Malaysia's 13 states, on the island of Borneo. His Covid-19 story is a familiar one: when the pandemic struck, the government's "movement control order" forced his company to shut down, and he found himself out of work and looking for a new source of income.
His experience is not unique. As many as 90 percent of Malaysia's micro, small, and medium enterprises and informal businesses could be forced to close if the lockdown cannot be lifted. The impact has rippled through communities in the form of lost jobs, ailing businesses, and a baffling new economic landscape where old ways of working no longer work.
In this new terrain, where brick-and-mortar firms stand empty and laid-off workers and small entrepreneurs struggle for a livelihood, the importance of online business skills has skyrocketed.
June 22 marked the first anniversary of Go Digital ASEAN, a regional initiative of The Asia Foundation supported by Google.org. The program provides training in basic digital skills to those most vulnerable to the economic shock of the pandemic: workers and small entrepreneurs, especially women in the female-dominated hospitality and tourism sectors and young people, groups that are facing severe loss of income and a lack of new opportunities.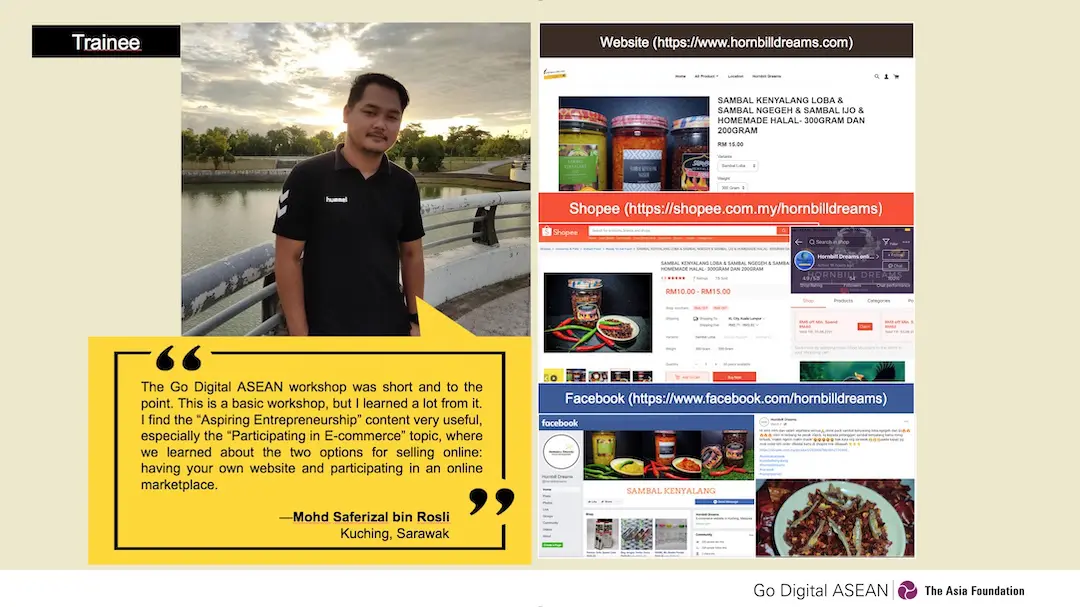 The project will train up to 200,000 people across the 10 ASEAN member states. Here in Malaysia, our goal is to reach 15,000 individuals. Together with our implementing partners, the International Youth Center and Startup Malaysia, we are focusing on three groups we consider most vulnerable to the pandemic—jobseekers, youth, and small entrepreneurs—and providing them with a solid foundation of digital skills to unlock new economic opportunities.
Saferizal is an example of the value of these new skills. To make ends meet when he was laid off, he started selling Sarawak handicrafts, and he decided to take one of our Go Digital online courses. The effect in one session was quite striking. He learned a set of fundamental web and e-commerce skills that allowed him to create his own website and begin selling his merchandise on popular e-commerce sites including Lazada and Shopee. His sales increased by 80 percent.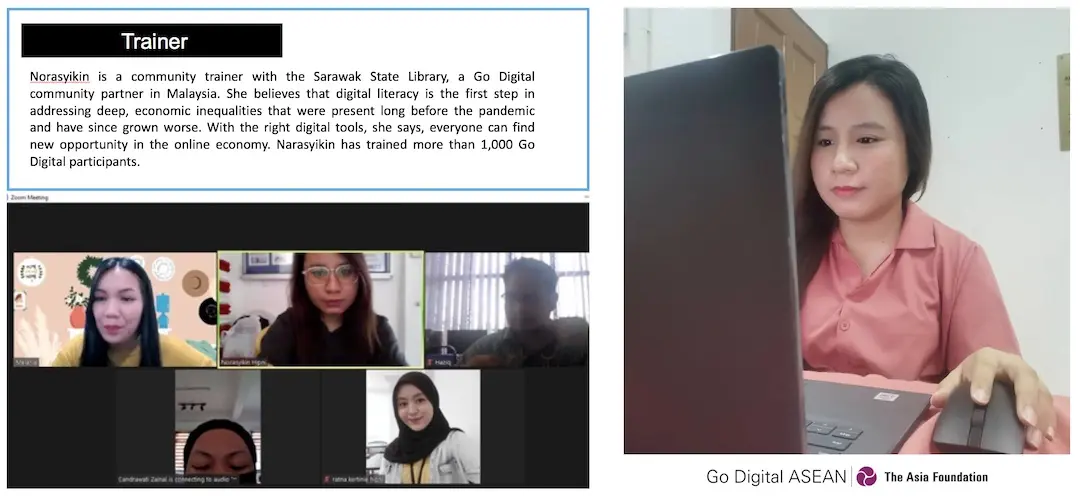 Business digitalization in Malaysia must accelerate to keep pace with the growing digital economy. The Ministry of Entrepreneur Development and Cooperatives (MEDAC) asserts that although digitalization is spreading among micro, small, and medium enterprises (MSMEs), there is still room for more, especially among MSMEs in rural areas and entrepreneurs affected by the Covid-19 pandemic. In a report published in March, Enduring the Pandemic: Surveys on the Impact of Covid-19 to the Livelihoods of Malaysian MSMES and Workers, The Asia Foundation found that most Malaysian MSMEs were not familiar with business digitalization and e-commerce prior to Covid-19, but that their concern about surviving for the long term was forcing them to rethink how they conduct business and how digitalization and e-commerce could help.
Norasyikin, who hails from Kuching, Sarawak, is a community trainer with the Sarawak State Library, a Go Digital community partner in Malaysia. After conducting a few Go Digital training sessions that drew a discouraging 20 participants—mainly friends and family—she turned to her personal network. What are friends and family for, after all? She asked them to spread the word about Go Digital and help promote the program. It worked: she eventually reached more than 1,000 participants across the country. Norasyikin believes that digital literacy is the first step in addressing deep economic inequalities that were present long before the pandemic and have since grown worse. With the right digital tools, she says, everyone can find new opportunity in the online economy.
Here are three key lessons from our first six months in Malaysia:
Flexibility. We made the lessons flexible and accessible, so participants can learn at their own pace, and we gave them the choice of our own scheduled sessions or sessions with our community partners. The online materials are compact and efficient, so participants, especially in rural areas, can access our content from their mobile phones without exceeding their data plans.
Community. Our content is offered in both Malay and English to reach more participants. We enlisted the participation of like-minded partner organizations to help us reach the communities that they know best, as well as to complement and support their own initiatives. Through our community engagement, we've been able to reach 4,200 individuals so far.
Collaboration. We are collaborating on outreach, content development, and online delivery with a variety of NGOs and community groups. And our efforts are supported at the highest levels: Go Digital ASEAN is endorsed by all 10 member governments through the ASEAN Coordinating Committee on MSMEs. The collaboration between governments, businesses, and NGOs working together can bring new opportunities and benefits to jobseekers and MSMEs.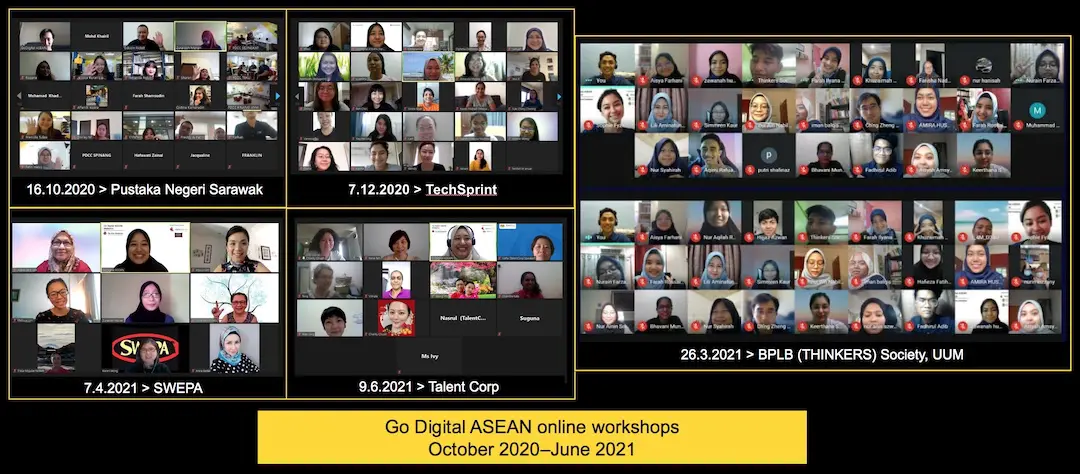 The Asia Foundation in Malaysia is proud to bring together a diverse group of partners to support inclusive economic growth across the country. As an advanced middle-income country, Malaysia needs a highly skilled, tech-savvy workforce, and many of the Foundation's programs are designed to meet that need. In addition to the Go Digital initiative, through a related technology-upskilling program called Rebound we are teaching digital skills to 190 women whose careers were interrupted by the pandemic. The Foundation has conducted a study on retaining highly skilled women in the Malaysian workforce, which examined international models of government-backed childcare and possible schemes for financing them in Malaysia. Findings will be used to develop an action plan for the government to push this initiative forward. Our programs and research, along with our community and government partnerships, are paving the way for scalable training and workforce programs, especially calibrated to include women and marginalized communities, across a diverse and dynamic country.
Go Digital ASEAN is currently conducting free training sessions for jobseekers and MSMEs in Malaysia. Please visit our Go Digital Malaysia website for more information.
Sharifah Shahirah Idid is a program officer with The Asia Foundation in Malaysia. She can be reached at [email protected]. The views and opinions expressed here are those of the author, not those of The Asia Foundation.
About our blog, InAsia
InAsia
is a bi-weekly in-depth, in-country resource for readers who want to stay abreast of significant events and issues shaping Asia's development, hosted by
The Asia Foundation
. Drawing on the first-hand insight of renowned experts,
InAsia
delivers concentrated analysis on issues affecting each region of Asia, as well as Foundation-produced reports and polls.
InAsia
is posted and distributed every other Wednesday evening, Pacific Time. If you have any questions, please send an email to
[email protected]
.
Contact
For questions about
InAsia
, or for our cross-post and re-use policy, please send an email to
[email protected]
.
The Asia Foundation
465 California St., 9th Floor
San Francisco, CA 94104
2023 Leaders on the Frontlines
Join us in San Francisco on October 12, 2023, to honor Niwat Roykaew.