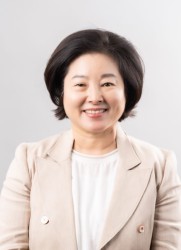 Acting Country Representative, Korea
Kyung-Sook Lee is the acting country representative for The Asia Foundation in Korea. Prior to her current role, she served as director of programs overseeing and managing the Foundation's programs in the country, including accelerating women's business, North Korean refugee entrepreneurship, Korean government-funded violence against women in Mongolia, and international relations and exchange programs.
As Korea transformed from an aid recipient to an aid donor and joined OECD Development Aid Committee in 2010, the Korea office emphasized supporting Korea's role as an aid provider to developing countries in Asia. As a development professional, Kyung-sook took the lead and implemented a Korean government-funded capacity-building program (2008 to 2020) for young development professionals from Korean government agencies, non-government organizations, and advanced development studies students. She also played a critical role in bridging the gap between Korea International Cooperation Agency and The Asia Foundation's country offices regarding Korea's overseas development assistance funding.
From 1991 to 2000, Kyung-sook served as a program officer and, from 2001 to 2015, a senior program officer focused on women's empowerment, governance, and promoting democracy in Korea.
Kyung-sook served on the Resource Allocation Committee of the Community Chest of Korea (2009-2011 and 2019-2021) and has been invited to participate in KOICA's ad hoc project selection committee for public-private partnership grants to Korean NGOs (2011-current).
Education: Master's degree in Development Studies from the University of East Anglia in the United Kingdom and a bachelor's degree in English Language and Literature from Kyunggi University, Seoul, Korea